Train damaged by object thrown at Pontyclun station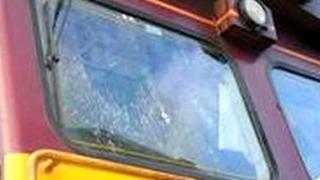 A train driver had a lucky escape after an "incredibly irresponsible" act in which an object was thrown at a train, police said.
The cab window was damaged as the freight train travelled through Pontyclun station, Rhondda Cynon Taf, at 60mph on Tuesday evening.
The driver was not injured but so shaken he had to be taken off duty.
British Transport Police said it was "a deliberate act of vandalism that could have had tragic consequences".
Investigating officer PC Craig Farrell said: "We believe the item, thought to be a stone, was thrown from either one of the platforms or a footbridge.
"As a result, the windscreen's protective shield was shattered. This was clearly an extremely dangerous act."
He said the driver's safety was "severely compromised" and the window would cost around £4,000 to replace.
"The train was travelling around 60mph at the time and it is fortunate the driver was not struck by the object, otherwise the consequences could have been catastrophic," he added.
Police said officers immediately searched the area and have conducted house-to-house inquiries but no arrests have been made.
"It is beyond belief that anyone could put items in the path of moving trains and we need to trace these mindless vandals before their actions result in serious harm," said PC Farrell.
The incident, which affected the DB Schenker freight service from Margam depot to Tees Yard in Middlesbrough, happened at 20:40 GMT.
Transport police are appealing for anyone around Pontyclun station at the time who saw anything suspicious to call 0800 40 50 40 quoting background reference B8/WCA of 08/02/2013, or Crimestoppers anonymously on 0800 555 111.