May Lewis lift death: Pontcanna House head knew of fault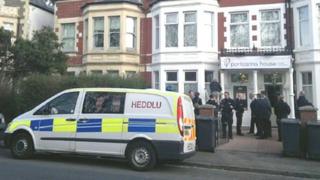 A care home manager knew the lift was faulty in the building where a 96-year-old woman in a wheelchair died in a lift shaft fall, an inquest has heard.
May Lewis fell 20ft (6m) and was killed instantly, five days after moving into Pontcanna House, Cardiff.
Dr Nasok Al Mufti, who was in charge of health and safety, told the inquest she glanced at the lift's safety manual only once in four years.
Ms Lewis broke 52 bones in the fall at the care home. The hearing continues.
"None of us use a manual to go to Marks and Spencer and use the lifts, you just know how to do it," Dr Al Mufti told the inquest.
"I only looked at the manual once - a quick look - three years before the death."
Ms Lewis was being reversed into the lift by a carer when the incident happened at the home in Canton, Cardiff.
The inquest heard that the lift had not arrived on the second floor and Ms Lewis and carer Carole Conway fell 20ft down the empty shaft. Mrs Conway survived.
Dr Al Mufti admitted she knew staff were routinely using an emergency key to open the faulty lift doors.
But the inquest in Cardiff heard that the lift's manual warned: "Do not use the lifting platform if it is faulty or not behaving properly."
Dr Al Mufti told the hearing: "If I went through the manual in detail I would have seen it. But it's not for me to deal or do anything with the lift.
Internal bleeding
"I leave that to the professional contractors who maintain the lift."
Dr Al Mufti, who has a Phd in biochemistry, added: "I am not a technical person and I am hopeless with machines, so I leave it with my husband.
"I didn't see the yellow sticker on the emergency key which said: 'This key is dangerous'.
"My concern was to make the key available to the staff."
Dr Al Mulfti said she never carried out a risk assessment on the lift and was not trained in how to use it.
Ms Lewis suffered 52 fractures to her ribcage, internal bleeding and fractures to her spine, skull and pelvis, and died at the scene on 6 March, 2012.