Cardiff riding school 'to close'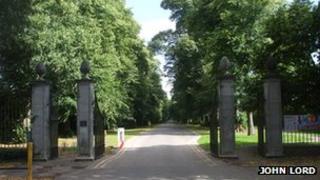 Staff at the council-run Cardiff Riding School say they have been told the site is to close within three months.
Thirty workers were apparently told on Wednesday that the 30-acre site in Pontcanna Fields would shut by 1 April.
The 43-year-old school has 50 horses, and one member of staff feared many would have to be put down because they would be impossible to re-home.
Cardiff council would not confirm the closure plans although a budget statement is expected on Thursday.
The school offers riding for children and adults and specialises in providing riding for disabled people.
One staff member who has worked there for more than seven years told the BBC that staff were devastated when they were told the news.
"People were in tears. It was very upsetting," she said.
"Our main clients are young schoolchildren. We also have lots of disabled people. We teach them four or five days a week - they really enjoy it; often they relate to animals better.
"We don't know what will happen to the horses here. I think they will have to be put down because it will be difficult to find homes for them."
Cardiff council refused to confirm the closure, although a budget statement is expected at a council meeting on Thursday.
'Convenient'
Dr Elizabeth Barton, an intensive care registrar at Swansea's Morriston hospital, said she started riding at the school when she was working at the nearby University Hospital of Wales.
She has also started training as an instructor under the guidance of the school.
Dr Barton said: "It's a really friendly place to come and it has a nice mix of horses and ponies.
"It's in the city so from a point of view of practicality it's a lot more convenient.
"We have got a lot of kids and and working people who wouldn't be able to get themselves out to a riding school elsewhere.
"The teenagers can get on their bikes and spend the day here in the fresh air.
"The first I heard was somebody had posted it on Facebook and I thought someone was having a wind-up.
"I was gobsmacked. It's been here for 41 years. There's a lot of disabled groups, about two or three, and they bring children down from a special school."
Dr Barton said the staff were in shock. "Nobody had any forewarning or inclination. Today was the first anybody had heard of it."
She said all lessons were full and there were waiting lists for every class and did not think the centre could be losing money.