Pigeon arson attack in Treherbert targeted family, police believe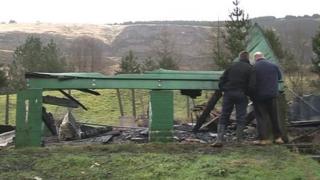 Police investigating an arson attack which killed 150 racing pigeons in Rhondda say early indications suggest the family which owned them was being targeted.
The birds were among about 300 housed in sheds on an allotment at Blaencwm, Treherbert.
Sgt Julian Ball said: "We are treating this incident very seriously.
"Considerable damage was caused and the owners were confronted with some awful scenes."
"The incident has also proved very costly for them, and they have been left distraught at their loss.
"We believe somebody somewhere can help our investigation, and appeal for them to come forward."
Fire crews from Treorchy and Tonypandy used thermal imaging cameras to tackle the blaze which broke out shortly after 05:00 GMT.
The owner of the pigeons, Alun Smith, has been racing them for 23 years and said some were worth £1,000.
Mr Smith built the coop five years ago from plywood, which he said would not burn easily.
There were 55 pairs of birds, along with another 40 that had not been matched.
Anyone with information is urged to contact South Wales Police on 101 or call Crimestoppers on 0800 555 111.