Peter Lewis murder: William Jones jailed for 22 years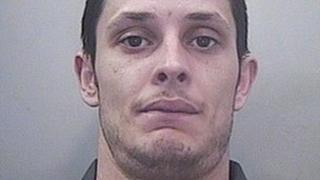 A drug addict has been sentenced to a minimum of 22 years for randomly murdering a "calm and gentle" disabled pensioner after becoming enraged about his ex-girlfriend's new relationship.
Peter Lewis, 68, a vulnerable man with learning difficulties, was stabbed in the stomach by William Jones, 32, in Roath, Cardiff, on 28 April last year.
Cardiff Crown Court heard Mr Lewis was killed after opening his door to Jones.
Jones was banging on doors searching for his ex-girlfriend's new partner.
Sentencing Jones on Monday, Judge Mr Justice John Griffiths Williams said: "The contrast between your life and that of Peter Lewis could not be greater.
"At the age of 32 you were a drug addict, a man who had little or no regard for his fellow man.
"Peter Lewis was a calm and gentle man who, despite his disabilities, led a full life helping others where he could.
"There was no malice in him but those who knew him understood him. There were many who held him affectionately in their regard.
"His murder was a cruel end to an affectionate life."
Jones was convicted by the jury of killing committed Christian Mr Lewis - who had one eye and had great difficulty moving without the aid of a carer and his walking stick - with a kitchen knife.
He was sentenced to life for murder with a minimum term of 22 years before being considered for parole.
The judge said: "You are a selfish and unfeeling man who has shown no remorse whatsoever.
"When Peter Lewis came to the door it was obvious he was an elderly, diminutive and infirm man. He did nothing to you by way of provocation. You lost your temper and stabbed him."
The court heard that after the murder Jones went to a nightclub to "enjoy himself without remorse".
During the trial the court heard a tape recording of an emergency call Mr Lewis made in his dying moments.
"I have been stabbed and I can't get up, somebody attacked me," Mr Lewis was heard saying.
"I am on my own, I am on the floor. He knocked me over. A boy hurt me, I need bandaging up. I am bleeding terribly, can you hurry up."
Jones told Mr Lewis he was looking for his "on-off" girlfriend Katie West, suspecting she was with a new partner, Dean Tilmouth.
After stabbing Mr Lewis, Jones ran off and threw the knife away into a scrap metal van.
'Inspirational'
South Wales Police arrived to find Mr Lewis slumped in his hallway. He had suffered a single stab wound to the stomach but he was still conscious and was able to give police brief details.
He died later that morning.
After the verdict, Paul Hewitt, of the Crown Prosecution Service, said Mr Lewis posed no threat to anyone, least of all Jones.
"His murder was an appalling attack, carried out by a killer who has taken no responsibility for his actions, instead seeking to suggest that he himself was the one being attacked," said Mr Hewitt.
Mr Lewis worked as a volunteer for Ategi, a charity for people with support needs, for more than five years.
The charity said in a statement: "Pete truly was an inspiration to all those around him, and even people who only met him briefly described him as 'unforgettable'."