Sick Cardiff council workers face no pay for three days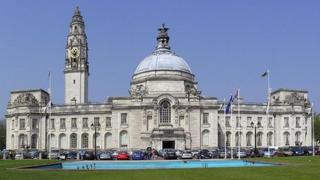 Staff working for Cardiff council will not be paid for the first three days they are off sick under plans to tackle short-term absence from work.
Wales' biggest council's 15,246 full and part-time workers averaged 11.49 days off in 2011-12, which it says cost it more than £15m in sick pay.
The waste management department has the worse absence rate, averaging about 25 days a year.
Unions representing council staff said they would fight the plans.
The policy review and performance scrutiny committee will consider the draft policy on Wednesday before it goes to cabinet on 6 December.
The council proposes not paying staff for the first three days they are off sick.
Staff will be eligible for pay on the fourth day if they have "fully complied with sickness reporting arrangements", while managers who fail to manage sickness absence properly could face disciplinary action.
The council said teachers were not included in the plans.
In September last year the committee published an inquiry into managing attendance by a task group chaired by councillor David Walker.
The task group made 19 recommendations from 41 key findings.
Mr Walker, who represents Lisvane and is leader of the authority's Conservative group, said staff absenteeism figures had been "consistently high" for a number of years at the council.
In comparison, he added, workers in the private sector averaged seven days or below off sick every year.
'Dramatic interventions'
"The calculation made at the time of the (task group) report was £15.1m, which was based on 11.45 days (average absence rate) in 2010-11," said Mr Walker.
"Absenteeism peaked in the waste management department in November 2010 at 27 days - that's five weeks a year.
"In addition to annual leave, which is around five weeks, it means some people are having 10 weeks off a year."
Mr Walker said the waste management department absenteeism rate had remained at a similar level.
He said social services, children's services and adult services also had high levels of absenteeism, and those departments raised the average for the whole council.
"There was an inquiry into absenteeism in 2005 and it came up with general solutions, but the problem was not corrected and so a second inquiry last year came up with radical options," Mr Walker added.
"There are plenty of checks and balances, such as occupational health, to ensure people are being treated properly, but if people take advantage then more dramatic interventions could be available."
'High priority'
A Cardiff council spokeswoman said managing sickness absence was a high priority for the administration and it was looking at ways to improve sickness absence levels.
She added: "We have consulted widely with senior managers, service managers, our five staff equality networks, trade unions and scrutiny."
Unison regional organiser Steve Belcher told Wales Online that council staff - who are three years into a pay freeze - would be furious at the plans.
"We will resist this, it's not something we can agree with," he told Wales Online.
"It's there as a current term and condition they enjoy and they would be angry if it was withdrawn," he said.