Aamir Siddiqi: Ben Hope blames murder on Jason Richards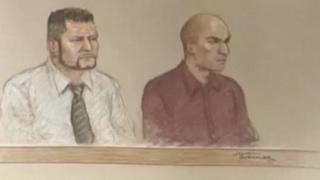 A jury has heard how one of two men accused of stabbing a student on the doorstep of his home told police his co-accused carried out the murder.
Ben Hope, 39, and Jason Richards, 38, deny the murder of Aamir Siddiqi, 17, and the attempted murder of his parents in the trial at Swansea Crown Court.
The jury was told Mr Hope cried after his arrest and said: "Jason did the murder."
The jury also heard tapes in which he described Mr Richards as a "hothead".
Aamir Siddiqi was stabbed to death on the doorstep of his Cardiff home in April 2010.
His parents were also attacked as they tried to protect him.
The trial on Thursday heard evidence from PC Darren Millard, who went to arrest Ben Hope five days after the stabbing.
He said Mr Hope made no reply when cautioned after his arrest.
However, the court heard he was crying on the way to the police station and said: "Jason was always calling for me, pressing the buzzer, I am not going to protect anyone. Jason did the murder."
PC Millard said that while at the police station, Mr Hope was still upset and made another unsolicited comment asking if the officer knew anything about the car.
Mr Hope then said he thought the car used was a silver Volvo, a Jeep and that he thought it was parked by the Adamsdown Bridge.
The court heard how Mr Hope said: "Jason wanted to burn it, he wanted to change the plates."
He also mentioned that there was a safe in the back of the car.
Under cross-examination by David Aubrey QC, defending Mr Hope, PC Millard confirmed that when Mr Hope said he was not going to protect anyone and spoke of a Volvo, it was information that he had volunteered.
The court heard that Mr Hope, who had bags placed over his hands after being arrested, asked another officer what was going to happen to his hands.
The jury was also played the taped police interviews of Mr Hope.
Agitated
He was asked by DC Deborah Zeraschi about his comment that he was not going to protect anyone and Mr Hope said: "I am not prepared to take the rap for something I did not do.
"I felt I was guilty by association, just because I know him."
When asked what Mr Richards had told him about Aamir's death, Mr Hope said he did not use his name but was agitated and said "I might have killed someone," or "I might have stabbed someone to death".
He said on the day Aamir was attacked, Mr Richards called around and said his television was not working, so they went to his home to try and fix it.
The court heard that when Mr Richards was arrested - three days after Aamir was attacked - he said: "All I have got to say is I am not guilty of this crime, I have got nothing to say about it."
The trial continues.