Sir Terry Matthews Alacrity Foundation graduates help call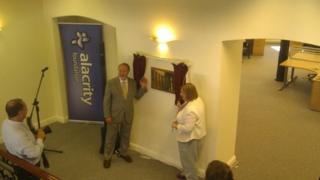 Telecoms tycoon Sir Terry Matthews has urged business leaders to pass on their experience to new graduates.
Launching his Alacrity Foundation mentoring scheme in Newport, Sir Terry said UK government investment in infrastructure "is not enough" to improve the economic situation.
"We need to give the next generation in this country a good shot," he said.
It follows a call by the British Chambers of Commerce for more government spending on infrastructure.
Half of the funding for the foundation has come from the Welsh government with the rest of the £5.5m sourced from the private sector.
Sir Terry, Wales' first billionaire, made much of his fortune from a series of successful technology companies, and hopes to create similar companies through the foundation, which already operates in Canada.
The Newport-born businessman said that with labour costs in China and India being lower than in the UK the future of the British economy had to rely on "brain power".
He told BBC Radio Wales: "You still have to invest on that big infrastructure side, but what I'm saying is that's not enough.
"You need to have the next generation of businesses coming along and in particular you need to encourage the new graduates that are coming out of universities to help them become the new generation of business people.
'Put effort back'
"They come out of university, they've never run a business, they've never had to deal with a board of directors or bankers.
"When these people become, say, retired or semi-retired, why not put effort back into society to encourage young people to become a 'somebody'?"
Asked what his message to such people was, Sir Terry said: "Get back in and help the next generation - use your network and experience to generate some new companies."
The foundation now has 11 graduates signed up and aims to create a number of new businesses supported by a network of mentors.
Each member of the team will have a stake in the company and will work on products to solve problems presented to them by a number of internationally recognised companies.
Alex Evans, one of the recent graduates to join the scheme, said each had their own expertise.
"The business graduates will often tell us what will work in the market and what won't," he said.
"I think it's really good to have lots different minds, different ideas and pull something together that will hopefully be good."
'Innovative offering'
Alex O'Brian has been with the foundation since earlier this year, and gave some hints as to what his team are working on.
"We're now got a bit of momentum coming together and some great relationships with our strategic partners," he said.
"We've looked extensively at what happens in education at the minute, all different sectors of education. We're looking to 'up-tech' that in a sense, working with a truly global strategic partner to hopefully bring a really innovative offering to the market."
Commenting on the official opening of the foundation's headquarters in Sir Terry's home city, business minister Edwina Hart said Alacrity added "significantly" to the business environment.
She said entrepreneurial and innovative companies were the companies that would help to create the biggest growth in Welsh jobs.
"The Alacrity programme is a catalyst for those companies to be created in the ICT sector," she said.
"The Alacrity model taps into the wealth of our graduate talent and provides education, opportunity and access to capital - all of which are key ingredients for entrepreneurial success.
"We must make Wales an even more attractive place to do business."