Tonypandy school metal theft: CCTV images of suspect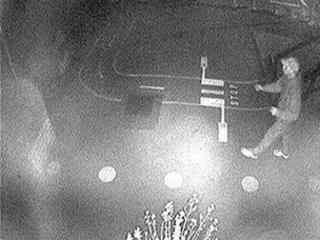 Police have released CCTV images of a suspected metal thief after the roof was stripped from a south Wales primary school.
Tonypandy Primary School was left exposed to the elements after the lead was stolen, causing £20,000 damage.
The man was spotted acting suspiciously in the school grounds at 02:37 BST on 8 August and is thought to have been with someone else.
It was the third time the school had been targeted in the last 12 months.
South Wales Police launched an investigation into the theft of lead from the school after it was reported on 16 August.
'Right thing'
Supt Simon Clarke, leading the investigation, hoped the release of CCTV images would help them track down those responsible.
"I am urging this person to come forward, to let us know what he was doing on the premises at such an unusual time," he said.
"Failing that, I'm counting on the local community to take a look at the image and let us know who it is so we can put the question directly to him.
"This repair job will cost the school many thousands of pounds, and for the sake of what? Lead worth a few pounds if scrapped."
Supt Clarke urged anyone with information to come forward, saying the thieves had effectively targeted their own children or those of neighbours by damaging the school.
"We are doing everything we can to find who is responsible, but urge the public to do their bit.
"I've said it before, somebody somewhere knows who did it.
"I urge them to do the right thing and make that call. Enough is enough.
South Wales Police have asked people to call on the non-emergency number 101 or anonymously via Crimestoppers on 0800 555 111.