Rail passengers promised extra seats for Team GB match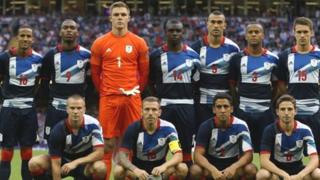 Rail passengers have been promised extra seats for Team GB's next Olympics football match in Cardiff on Saturday.
Train companies have apologised for long queues after 19,500 used Cardiff Central station on Wednesday night after problems following the 1-0 win against Uruguay.
That was double the usual figure for a Millennium Stadium event.
GB's quarter-final against South Korea in Cardiff on Saturday night has already sold out.
First Great Western (FGW) said the record number of passengers using Cardiff's main railway station caused travel disruption on Wednesday night.
Rail passengers complained of "utter chaos" and being "herded like cattle".
A spokesman for FGW said the game saw an "unprecedented number of passengers" travelling to Cardiff on its services.
Arriva Trains Wales (ATW) said it was working on a solution.
A spokesman said: "We are currently working with First Great Western to ensure that extra capacity to Bristol and London is in place ahead of Saturday's Team GB fixture in Cardiff.
"Arriva Trains Wales will be operating the same level of additional capacity on its routes on Saturday, as was in place for last night's fixture, which dealt comfortably with the demand through the station, indeed all ATW passengers on our routes in Wales had been catered for by 23:30."
The ATW spokesman said its executives held a conference call with FGW managing director Mark Hopwood to avoid disruption ahead of Saturday's fixture.
Apologise
ATW said it would also be working with Cardiff council to "extend the reach of station announcements" and is looking at improving the way information is relayed to those queuing on to Wood Street.
The spokesman added: "We apologise for any communications issues resulting from the unprecedented length of queues for First Great Western services at the front of Cardiff Central station.
"In anticipation of it being similarly busy on Saturday for Team GB's next fixture, we are redesigning our queuing system to ensure that there is additional space for First Great Western passengers on Cardiff Central forecourt."
A number of road closures are in place in the city centre on game days, and Cardiff council has urged everyone going to matches to "follow the advice on their tickets, plan ahead, come early and enjoy all that the Welsh capital has to offer".
About 70,000 will fill the Millennium Stadium on Saturday for the South Korea game.
A 69,000-strong crowd watched Team GB beat Uruguay 1-0 in the second match of a double-header in Cardiff on Wednesday. Earlier in the day Mexico beat Switzerland 1-0.
Meanwhile, the last women's fixture at the stadium will be played later on Friday between Brazil and Japan.
The stadium will also host the men's bronze medal play-off on 10 August. GB could be in that game if they beat South Korea but lose in the semi-final.
Eleven matches in total are taking place at the Millennium Stadium throughout the Games.
Organisers said they had been happy with attendances, with the lowest about 24,000 for the Japan v South Africa women's match.