Olympic football: Team GB match v South Korea in Cardiff sells out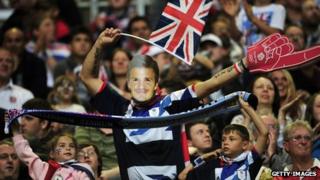 The Team GB men's football quarter final against South Korea in Cardiff on Saturday has sold out.
Around 70,000 will fill the Millennium Stadium for the second Olympic match in a row following GB's 1-0 win over Uruguay on Wednesday.
The football has led to a carnival atmosphere in the city since the GB women's team opened the entire Games last Friday.
There are now only three Olympic matches remaining in Cardiff.
Besides the men's quarter final on Saturday, there is the women's quarter final on Friday between Brazil and Japan, and the men's bronze medal play off on 10 August.
If GB beat South Korea but lose in the semi final, they will play in the bronze medal match.
Eleven matches in total are taking place at the Millennium Stadium throughout the Games.
Organisers have been happy with attendances, with the lowest being around 24,000 for the Japan v South Africa women's match.
A Locog spokesperson said Saturday would be another massive game for the Millennium Stadium.
"We're looking forward to having Team GB back," he said.
"It was our first capacity crowd on Wednesday night so it was the biggest day of the Games for the Millennium Stadium so far, and hopefully everybody has enjoyed themselves.
"It was nice to see the British crowd coming together in the Welsh capital.
"We kicked off the whole Olympics [for last Friday's Team GB women's game] with a crowd approaching 31,000 people, an unprecedented crowd for a UK women's football attendance."
On Olympic match days, roads will be closed two-and-a-half hours before kick-off and will remain in place until at least an hour after the game ends.
Park and ride facilities will be available for the football and can be accessed by following signs from junction 33 of the M4.
There will also be free coach parking on Edward VII Avenue, and secure parking for bikes in Sophia Gardens.
The closures will also affect bus services in the city centre.