London 2012: Brazil men's football team face Egypt in Cardiff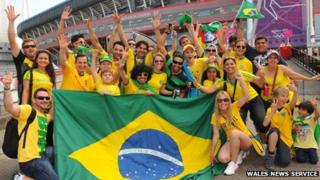 Brazilian fans brought a carnival atmosphere to Cardiff, as the Olympic football tournament continued at the city's Millennium Stadium.
Hundreds of Brazil fans gathered at one end of St Mary Street for an impromptu party ahead of their match with Egypt.
It was a close match and Brazil beat Egypt 3-2.
The Welsh capital's launch of the 2012 Olympics was hailed as "fantastic" and London 2012 chairman Seb Coe said Cardiff felt like "an Olympic city".
About 25,000 tickets were sold for Brazil's game with Egypt.
But around 600 fans formed a queue that stretched over 100 yards from the stadium and along Westgate Street, an hour before kick off.
A second queue was almost as long near the Angel Hotel, as the 19:45 BST kick off time approached.
After a quiet day there was a last minute surge for walk-in tickets on Thursday evening.
Some fans who bought tickets online were unhappy they had to join the same queue to collect them as those still waiting around an hour to buy tickets.
And just minutes before kick-off between 400 and 500 fans were rushed though the gates without tickets providing they showed a print out of the their ticket confirmation.
A Locog spokesperson said: "The implementation of a contingency plan allowed a few hundred fans entry into the Brazil v Egypt game at the Millennium Stadium this afternoon using electronic tickets when it became obvious that there was a possibility they would miss the start of the game.
"All of the fans were still subject to the same rigorous searching regime in line with Olympic security arrangements.
'Teething problems'
"We would like to advise all fans attending matches to arrive as early as possible to purchase and collect tickets to ensure they get the very best matchday experience."
Officials at the Millennium Stadium said there had been "teething problems" on the first day when some people missed the start of Wednesday's opening match between Great Britain and New Zealand due to long queues.
Queues formed because despite advice, people had brought bags to the stadium which then had to be searched before entry into the venue.
While other problems included food running out in one area after "high demand".
Earlier, stadium manager Gerry Toms said no extra search staff would be deployed later and reminded spectators not to bring large bags.
Overall though, the first day of London 2012 was hailed a success, with a crowd of 30,847 attending - some 8,000 fewer than the number of tickets had previously been reported to have been sold.
However, the crowd was higher than the average for women's football at each of the last three Olympics.
First Minister Carwyn Jones said Wales had been in the spotlight and had been given an "opportunity to show people across the globe what a fantastic host we are for top sporting events".
Seb Coe said Cardiff had a "different feel about it", adding: "I felt I was arriving in an Olympic city".
'Win-win'
Mr Toms added: "It brings people from all around the world to Wales and also it brings an event to Wales for local people to see.
"So I think it's a win-win all round."
UK Culture Secretary, Jeremy Hunt, was in the Welsh capital on Wednesday, and said: "I think it's amazing that the very first event of the whole London 2012 Olympics is happening here in Cardiff."
After Team GB beat New Zealand 1-0 on in the opening game, Brazil's women went on to thrash Cameroon 5-0 on Wednesday evening.
Brazil's men's team, five-times World Cup winners, are no strangers to Wales, having played a number of memorable games in Cardiff in the past 30 years.
They are also overwhelming favourites to win gold in this summer's tournament, despite never having done so before, winning four silver medals and two bronze.
The bright yellow and green shirts of Brazil can be seen in force around Cardiff city centre with many watching their team as part of a holiday to the UK while others are ex-pats who have travelled west from London.
After a low key start, the atmosphere built in the city as kick off approached.
At the giant Olympic rings outside City Hall many Brazil fans made the most of a good picture opportunity.
Paulo Machado, 27, has been studying for a masters in London and is going to the game with two friends.
He said: "We've been here in Cardiff before for a rugby game. It was awesome. The last time we were in Cardiff it was raining so it's a beautiful day today and it's going to be a great match."
Egyptian supporters were more thin on the ground but a few could be seen waving flags around the city centre.
Mohammed Abid, 22, is studying in Cardiff but is from Canada while his parents are Egyptian.
He said: "I think it is great it's in Cardiff. I haven't seen the city so lively for quite a long time. This game is definitely bringing things up a couple of notches."
Elsewhere, Ryan Giggs led out Great Britain men's team at Old Trafford when they took on Senegal .
"I am still disappointed I never got to a major championship with Wales, that we weren't good enough to get to a European Championships or World Cup," the 38-year-old said.
"But to get the chance to play in a tournament at such a late stage of my career is obviously one I'm excited about and looking forward to.
"All the lads have embraced the Olympics."