London 2012: Olympic temperature rises in Cardiff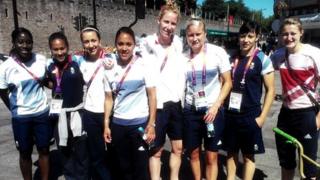 Olympic fever may be overstating it, but the temperature is certainly rising as Cardiff prepares to host the opening event of the 2012 Olympics.
While the Welsh capital basks in proper summer sunshine for the first time since the Olympic torch visited, there is something approaching genuine excitement.
The Olympic presence can be seen around the city.
Extra police around the Millennium Stadium, Olympic banners on lamp posts, massive Olympic rings outside City Hall and - this is a definite giveaway - the Team GB women's squad taking in the sights.
'Police presence'
Most people appear to be aware that those very same women will be kicking off the entire Games against New Zealand in the Millennium Stadium on Wednesday afternoon.
The women themselves are most definitely aware of the significance of it all.
They were attracting plenty of attention from shoppers as they meandered their way along a hot and sunny St Mary Street on Tuesday, stopping for chats and requests for photographs.
Midfielder Anita Asante, 27, who plays her club football in Sweden, said: "We're just having a bit of a walk and a stretch.
"I really love the city. There's a lot going on here and everyone has been really nice and supportive, and it's reinforcing the whole Olympic spirit."
The atmosphere on the streets is relaxed and, while security has obviously been stepped up - with a large police presence near the stadium and airport security-style scanners at some hotels - it does not yet feel like an overbearing ring of steel.
There were lots of smiles from police officers on duty outside the stadium, and one helpfully pointed the way to the ticket booths.
They had just opened for the day and were attracting a respectable number of customers, although a couple of printer-related teething problems caused delays initially.
Gary Hancock travelled from Coventry with his five-year-old daughter Olivia to watch the women's football despite his own home city also hosting matches.
"My daughter wanted to come and see Team GB because she plays football herself for her team, Rugby Town Girls," he said.
"We're really excited, it's going into the unknown. We'll never see it again in my lifetime. Olivia hasn't stopped talking about it.
"Cardiff is lovely, the people are really friendly and nice and welcoming, but parking is a nightmare!"
Mr Hancock and his daughter were spending one night in the city, but hoteliers appear to be benefiting from visitors from further afield staying for a holiday.
Hannele and Pekka Paunu, from Finland, who were also buying tickets for Wednesday's match, had just been north to Llandudno, and were now enjoying the Cardiff sunshine.
"They're very nice people here and they're helping so much if we ask anything. We've had a friendly welcome," said Mr Paunu.
"We're spending two weeks in the UK including one week in Wales.
"We're going to Cardiff Bay now to see what they have there."
But while the football has attracted foreign visitors to Cardiff, not everyone was aware Cardiff was a host city.
Simone Paans, 48, from Holland, who was taking photographs of Cardiff Castle, found out about the Olympic football on the plane only when the American passenger next to her mentioned it.
"I'm not a big football fan but, just to say at home I've been to the Olympics, that would be nice!" she laughed.
Away from the tourists and football supporters, businesses in the city are viewing the football as a mixed bag.
There are positives, such as more visitors, but these are possibly outweighed for some by extensive road closures during the eight separate days when football is staged.
Potential headache
Hotels, restaurants and bars are expected to do well while some retailers fear shoppers will be put off coming into the city centre.
Marc Marshall, 24, at Shop Rugby opposite Cardiff Castle, is cautiously optimistic because the store usually pulls in lots of tourists, but he admitted the road closures were a potential headache.
"During the [rugby] pre-season we're getting all the new stuff in and it's quite competitive about who gets the stock," he said.
"The road closures are not helping. I'm guessing they've got something planned for the delivery drivers."
A few yards further along, Jimmy De Castro, owner of That Shop News, said he was hoping the matches would provide a much-needed boost during tough times.
Back at the ticket booth, it was difficult for some of the enthusiasm not to rub off at least a little bit.
Matthew Evans, 31, of Caerphilly, is taking his young niece and nephew to the Brazil v Egypt men's game on Thursday and was picking up the tickets.
"It's great to say that an event of the Olympic Games is in Cardiff. It will be something to say that it came to Cardiff as well as the Empire Games in the 1950s," he said.