Heads of the Valleys A465 Brynmawr-Tredegar to be dualled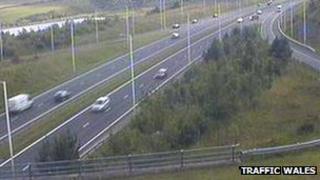 A further stretch of the A465 Heads of the Valleys road in south Wales is to be turned into a dual carriageway.
The £150m scheme will cover just under 8km (5 miles) between Brynmawr and Tredegar, next to the previous improvements west of Nant-y-Bwch.
The Welsh government said it would improve road safety by tackling poor visibility and accident blackspots.
The third of six sections of the A465 to be dualled, work is due to begin in late 2012 with completion in 2015.
The Welsh government wants to turn the whole of the A465 road from Abergavenny to Neath into dual carriageway by 2020.
It is one of the busiest roads in Wales with 473 accidents reported between 2005 and 2010 along its entire length.
The decision announced on Thursday follows a public inquiry in March.
The project will replace the current three lane road with a full dual carriageway between Brynmawr and Tredegar.
It will also create a 3km cycleway and a new rest area at Garn Lydan with extended parking and viewpoints for the Brecon Beacons and the Valleys regional park.
Transport minister Carl Sargeant said: "The A465 is a crucial artery of our transport network and the principal road link between west Wales and the midlands.
"Dualling the Heads of the Valleys road will help improve safety, shorten travel times for commuters and businesses and contribute to the wider regeneration of the region.
"An improved Heads of the Valleys route will also play a role in tackling poverty for the region by improving links to key sites within education, health centres and jobs."
Last October public exhibitions were held to show proposals for the £206m stage between Gilwern and Brynmawr.
Construction of the final two sections of the A465 - covering Hirwaun to Dowlais Top via the A470 - is scheduled to begin after April 2014.