Wireless tablet PCs for every Cardiff school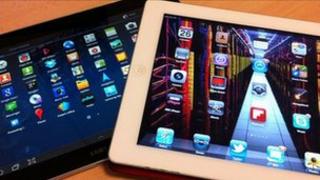 Schools in Cardiff are to be given wireless tablet devices for every pupil to be able to use in a £3m project aimed at bringing teaching up to date.
The touch screen computers will be used in classrooms for work across the curriculum, but parents will also be offered the chance to buy them.
Cardiff council says every school in the city will also have high-speed wireless internet.
Installation work will start during the school summer break.
It will continue for the next two academic years.
The council said the investment will mean "big changes to the way pupils are taught across the city".
The council said that tablets will be given to each school - both primary and secondary - for pupils to use with a teacher during lessons.
It said it did not yet know how many devices each school would receive, but the scheme would be rolled out from September.
As part of the project, parents will also be offered the chance to buy tablets through the school.
David Harris, head teacher of Tredegarville Church in Wales Primary School in the city, where a wireless network has already been installed, said they had seen an improvement in literacy and numeracy skills after exploring new ways of learning with computers.
"The challenge has been to continue to develop more imaginative and innovative ways of delivering the statutory curriculum, while maintaining and building upon standards of achievement," he added.