Mametz Wood Welsh red dragon memorial anniversary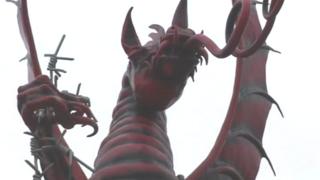 Members of a World War I commemoration group have travelled to Mametz Wood in northern France to mark the 25th anniversary of the unveiling of a Welsh memorial.
The red dragon is dedicated to 5,000 men of the 38th (Welsh) Division who died on the Somme in 1916.
"It's a very, very rural spot," said Gareth Scourfield of the Western Front Association, before Saturday's service.
"If you close your eyes all you can hear are skylarks and the wind."
The Western Front spearheaded a campaign in 1987 to have the memorial.
Now those who raised the money have made the trip back.
Mr Scourfield, of Cardiff, who is from the south Wales branch of the association, who was was at the unveiling in 1987, said: "The memorial overlooks Mametz Wood. There's a field that grows many different crops and the memorial overlooks this sloping field up to the wood.
"There's nothing around there at all apart from, in the distance, you can just about see Flatiron Copse Cemetery, where many of the men are buried.
"It's a remarkably moving and peaceful place and it's become a focal point for Welsh visitors. Because it's tucked away you feel as if you're deep in the country.
"Occasionally you might hear a farmer out in his tractor."
The Welsh regiments taking part included the Welsh Regiment, South Wales Borderers and the Royal Welsh Fusiliers.
The UK government announced last week that the 2nd Battalion Royal Welsh will be withdrawn from battle. Its 640 members will merge with the regiment' s 1st Battalion.