Hospital smoking: Cwm Taf staff patrol to enforce ban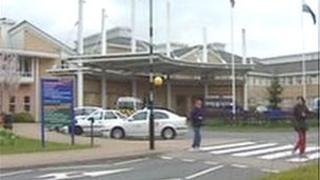 Senior managers at hospitals across much of the south Wales valleys are patrolling the grounds in an attempt bid to enforce a smoking ban.
The policy has been introduced by Cwm Taf Health Board, which mainly covers Merthyr Tydfil and Rhondda Cynon Taf.
No-one is allowed to smoke on any of its sites, including hospitals, car parks, clinics and health centres.
Prince Charles Hospital, Royal Glamorgan Hospital, Ysbyty Cwm Cynon and Ysbyty Cwm Rhondda are affected.
Nicola John, director of public health at Cwm Taf, told BBC Wales: "We are so pleased, it's been going so well.
"Since our launch we've had senior staff walk about the sites at various times."
Ms John said staff have been "polite" and "non-confrontational". The health board's security has also been trained to patrol the ban.
"So far we've had no staff breaches, we've had a few a few members of the public who've been really apologetic and they've put them out," Ms John said.
A hotline has also been set up for patients and staff to report people who are smoking on the premises.
The ban comes after as the Welsh government's Tobacco Action Plan aims to reduce smoking to 16% by 2020.
This means, for instance, that 26,000 smokers in the Cwm Taf area must quit in the next eight years.
'Living longer'
She said: "Smoking is the biggest single cause of avoidable premature death and ill health in Wales and we want to contribute towards a reduction in smoking rates through the introduction of our new smoke-free policy.
"Many people have expressed concerns to us about having to breathe in second-hand smoke as they walk through the entrances to hospitals where people are smoking, so our policy will help ensure this is no longer an issue.
"As a health board, we have a responsibility to promote healthy lifestyles and the single most important thing people can do to improve their health is to stop smoking.
She said the policy would help smokers to give up and steer people to "living longer and enjoying a healthier lifestyle".
In May last year, smoking was banned outside hospital entrances in Cardiff and the Vale of Glamorgan.