Newport's medieval ship 10th anniversary poem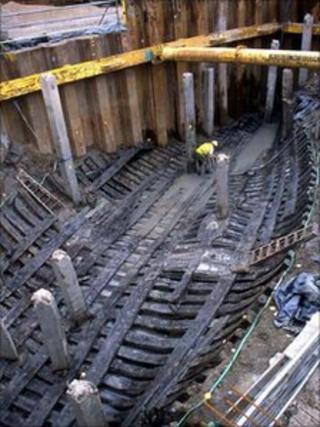 The national poet of Wales will pay tribute to Newport's medieval ship at a special event to mark the 10th anniversary of its discovery.
Gillian Clarke has written a poem about the vessel found in 2002 during construction of the Riverfront theatre.
Members of the project team will also take part in the Decade of Discovery event at the venue on Friday evening.
Ship curator Toby Jones said: "Our ultimate goal is to reassemble the ship and put it on display to the public."
The celebration kicks off a programme of events to celebrate the 10 year anniversary.
History uncovered
Thousands flocked to the banks of the River Usk in June 2002 when excavation work for a new theatre and arts centre uncovered the 500-year-old remains of a trading ship.
Archaeologists say it is the world's best preserved example of a 15th Century vessel and they are still making new discoveries about life on board.
"We've been working steadily over the last 10 years to clean and record the ship's timbers and all the artefacts, over a thousand items found inside and around the ship," said Mr Jones.
The ship's remains are being stored, cleaned up and examined at an industrial estate in Maesglas on the outskirts of the city in a project funded by Newport council.
"The ultimate goal of the project is to actually reassemble the medieval ship - to dry out the timbers, reassemble it and put it on display to the public," said Mr Jones.
"We'd like to see the ship rebuilt in a large gallery in a new museum in Newport.
"It's going to be a process of rebuilding the ship from all its component pieces in the same way that they built the ship back in the mid 15th Century.
"We've specifically looked at every single part of the Newport ship - we've basically reverse engineered it.
"We've made a three dimensional model which is on display right now - it basically serves as a 3-D blueprint for when we actually reassemble the ship."
Mr Jones said Newport City Council had asked a team of consultants to look at the best site for a new museum to house a reconstructed ship and other artefacts.
The project team has previously indicated that it could be another five or six years until such a museum opens.
A series of open days at the ship centre in Maesglas and other events will continue through the summer.