Fairwater High: Torfaen drops bid to replace school governors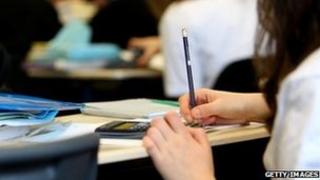 A council has withdrawn an application to replace the governing body of a school where it said standards were unacceptably low.
Torfaen asked the Welsh government in December if it could set up an interim executive board (IEB) at Fairwater High School, Cwmbran.
It claimed the school had poor literacy levels, attendance and behaviour.
The council said its decision followed monitoring of the school and predicted GCSE grade improvements.
Torfaen's chief officer for education Mark Provis confirmed he had written to Education Minister Leighton Andrews to withdraw the council's application.
This had been done "in light of the monitoring visit from [schools inspectorate] Estyn, the school's predicted improvement in GCSE grades for English and maths, the council's own review of performance and regular monitoring", he said.
Mr Provis said the actions taken by the council last year had been a first for Torfaen and gave a clear indication of its "grave concerns" about a range of issues in the school.
'Difficult decision'
These included the attainment of pupils and the quality of teaching and learning, he said.
"It was a difficult decision and one not taken lightly but it showed we are prepared to use all the measures the minister has given councils to improve performance," said Mr Provis.
Mr Provis warned that, like Estyn, the council would closely monitor performance and next year's examination results so there would be no loss of focus on improvement.
"The council must ensure this improvement is sustained," said Mr Provis.
"The school continues to face ongoing challenges with budgetary pressures, changes to leadership and the need for less dependency on local authority support.
'Marked improvement'
"Should projected improvements not be fulfilled then the council reserves the right to make a fresh application for an interim board."
Mary Barnett, Torfaen's executive member for children and young people, said the council was pleased to recognise the "marked improvements" and "predicted gains" at the school.
"Our action received a positive response from the school's head teacher and leadership team which has been evidenced by a major improvement in teaching and learning within the school," she said.
Prior to the council's application last years the school had been graded Band 4 by the Welsh government under its system, with Band 1 the best and Band 5 the worst.
The assessment of the school's performance in the academic year 2010-11 had found 33% of pupils, the lowest in the county, achieved five GCSEs passes, including English or Welsh and mathematics.