Doctor Who filming starts for Amy and Rory's final series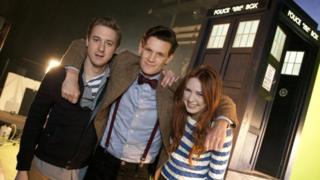 Filming has begun in Cardiff on a new series of Doctor Who, which will see the exits of his companions, played by Karen Gillan and Arthur Darvill.
Matt Smith is teaming up for the last time with characters Amy Pond and Rory for his third series as the Doctor.
Rory and Amy have been with the BBC Wales-produced show since Smith took over as the time traveller in 2010.
Smith said: "It's thrilling and exciting to be back and working with two of my closest friends."
'Best years'
Guest stars so far confirmed to appear in the 14-episode series include David Bradley, Rupert Graves and Mark Williams.
Scriptwriters are promising "blockbuster movie episodes" with new monsters for the Doctor and his friends to encounter as well as some old enemies "as you've never seen them before".
Head writer Steven Moffat announced in December last year that Gillan and Darvill would leave the show and their story would come to a "heartbreaking end".
Gillan, who won a national television award for her performance as Amy Pond, said last month that she was sad to be leaving after the "best years of my life" on the Saturday night sci-fi show filmed in south Wales.
Her work outside the series includes playing Jean Shrimpton for the BBC Four drama We'll Take Manhattan and she is set to begin work on a new comedy film playing an eccentric author with writer's block.
She said: "It's just brilliant to be back on the Tardis with Matt and Arthur for our craziest adventures yet."
Darvill is moving from Doctor Who to Dr Faustus, as he is in rehearsals for the Globe's first production of Christopher Marlowe's tragedy.