Gypsies and travellers in Newport call for official sites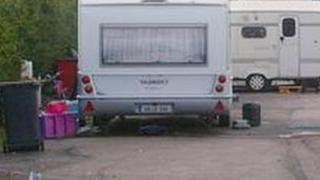 Gypsies and travellers want Newport council to create small official family sites to help their community.
The Welsh government has advised all local authorities to assess the housing needs of Gypsies and travellers and make provision for sites where needed.
Newport has the highest number of illegal camps in Wales.
In 2009, 28 out of 30 caravans in Newport were illegally parked and clearing up can cost tens of thousands of pounds.
Yew Tree Cottage overlooking Bettws estate has been earmarked by the council as one of five possible locations for Gypsy and traveller sites in Newport.
There has been staunch opposition to the proposal but travellers living in the area say small official family sites are the best way forward.
BBC Radio Wales current affairs programme Eye On Wales brought the two sides together to discuss their differences.
Tracey Collett, who opposes plans for a site, said: "Our estate is very poor and we don't think it's fair that a lot of money is going to be spent on one or two families, when our estate is falling apart.
"There are a lot of people who can't get houses. We have pensioners who can't afford to put their heating on. That money should be spent on building houses."
But local traveller Bobby Hendry, whose family will benefit from one of the sites, thinks it is money well spent and will help ease some of the problems his family has faced.
'Emotive subject'
He said: "It's not an issue that's just going to go away because travellers aren't just going to go away.
"If you don't build the sites and you don't start doing something about it, then it's all going to come to a head."
It will be several months before a decision is made on the Yew Tree Cottage site and the other proposals.
Newport council leader Matthew Evans said: "It is a very emotive subject and it's a difficult one to try and address on a political level.
"No matter where you put it - you could put it 15 miles from anywhere - there would be concerns raised.
"We need to be open to the residents but ultimately we need to find suitable sites."
He said there were benefits to permanent official sites.
"Currently we have some fairly significant bills for clearing up after travellers have left sites and we have the legal issues and the difficulties of enforcement action to move them on," he added.
"One of the benefits of having a permanent site would be that they would pay council tax and they would have to pay for rents and everything else."
BBC Eye On Wales - When Bobby Met Tracy - is broadcast on Sunday 19 February at 13:00 GMT on BBC Radio Wales