Bridgend leisure centres moving to management company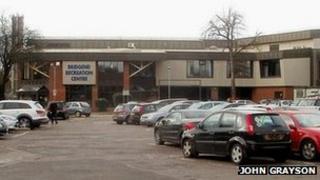 An outside company is set to take over running Bridgend's leisure centres in a move to save the council money.
The county's eight centres would transfer to a social enterprise company which currently runs over 100 centres in London and south-east England.
The council hopes to finalise the contract to allow Greenwich Leisure Limited (GLL)/Halo to take over on 1 April.
The authority will continue to own the buildings and facilities.
Under contract terms, the new managers will make a multi-million pound investment in Bridgend Recreation Centre.
Council leader Mel Nott said: "Most people recognise that this is the chance to really improve and grow the leisure opportunities that we can offer residents.
"As a cabinet we're ambitious for our leisure services but realistic about what we can afford in the current economic climate. So don't let anyone tell you we are selling or closing any of our centres and pools.
"They remain our buildings and we will continue to have a significant input into how they operate and what they offer.
"I can, however, understand any resident who is concerned about accessibility or prices.
"Part of the process of choosing a new partner has been finding one which wants to invest in our facilities but also ensure all of our centres and pools remain open, easily accessible and affordable to everyone in the county borough, regardless of their personal circumstances."
'The public are a bit nervous'
Independent Annibynwyr councillor Megan Butcher, chair of the health and wellbeing committee, said there was broad consensus across most political parties on the council that the partnership was the right way forward.
"We realise that the public are a bit nervous about anything that goes out of the hands of the local authority," she told BBC Wales.
"We will be permanently holding on to the reins in governing prices. We're not giving up control of the leisure facilities.
"[GLL/Halo] will be able to put money into it, particularly Bridgend's leisure centre, which we are not able to do.
"If there's a way forward, isn't it right that we should explore it?"
She added that at present the terms and conditions of employees would remain unchanged.
GLL, which is one the country's largest leisure operators, will take the contract and Halo, which runs 10 centres on behalf of Hereford and Shropshire councils, would be appointed as the local operating partners.
Both are run as not-for-profit social enterprises.