Cardiff swimming pool tribute to Lavern Ritch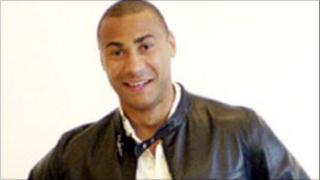 A plaque in memory of a Cardiff fitness instructor who was killed while on holiday in the United States has been unveiled at a swimming pool.
Lavern Ritch, 37, was fatally stabbed by a man he was trying to help in New Jersey in 2007.
Mr Ritch taught hundreds of children in Cardiff to swim.
His relatives were at the unveiling on Friday at the Cardiff International Pool, including his father Louis, who said his family was "immensely proud".
He said he was extremely grateful to Cardiff council for the tribute and the councillors who made it possible.
"Our family are immensely proud and it's great honour for the plaque to be put in Lavern's name," he added.
About 1,000 people attended his funeral and Mr Ritch, from Penarth, Vale of Glamorgan, was described as a "good samaritan" and a "Cardiff hero."
It was said that Mr Ritch - a former contestant on the TV show Gladiators - was a mentor to hundreds of youngsters both as a swimming coach and tennis instructor.
The plaque has been paid for by Cardiff council.
Council deputy leader Neil McEvoy said: "I knew Lavern in school and I am honoured and glad to be able to help people remember him with this plaque.
"He was an inspiration and I hope the great memories we have of him will be a comfort to his family."
Robert Davies, of New Jersey, was jailed for 21-and-a-half years in April for the killing.
He was cleared of murder but convicted of reckless manslaughter after claiming he had acted in self-defence.
The trial heard that he stabbed Mr Ritch through the heart in the summer resort town of Margate where Mr Ritch was visiting with friends from Atlantic City.
Jurors heard Mr Ritch was trying to help Mr Davies at the time.