Lynette White case: Boyfriend 'not in murder flat'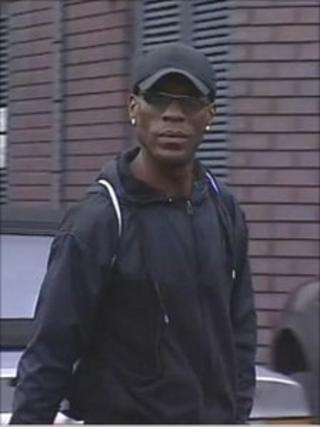 A man wrongly convicted of killing a Cardiff prostitute has denied being present when she was murdered.
Stephen Miller, the boyfriend of Lynette White at the time of her death in 1988, was asked how he could describe the murder scene if he had never been there.
Mr Miller said it was guesswork and what Miss White had told him about how it looked.
Eight ex-police officers deny perverting the course of justice.
They have all pleaded not guilty at their trial at Swansea Crown Court.
Two other people deny perjury, along with one of the former police officers.
Stephen Miller, Yusef Abdullahi and Tony Paris were jailed for life in 1990 for the murder.
Becoming known as the Cardiff Three, they were released two years later after their convictions were quashed.
In 2003 advances in DNA led police to Jeffrey Gafoor, who admitted the murder and said he had been alone.
In Swansea Crown Court on Monday, Mr Miller was questioned by William Coker QC, the barrister representing former Det Ch Insp Graham Mouncher, who, in late 1988, was in day-to-day control of the investigation.
During 19 interviews Mr Miller had admitted being present with four others when Miss White was murdered.
He told the court the confession had been bullied out of him and he had been willing to say anything to get out of Butetown police station.
Mr Coker asked Mr Miller that, if his account had been pure fiction as he now says it was, how had he been able to describe the inside of the flat where Miss White was stabbed more than 50 times.
At the time Mr Miller told police that Flat 1, 7 James Street in Butetown in the city was at the top of a flight of stairs.
He also told of which way to turn to enter rooms and that one room was illuminated by a street lamp while another was not.
Mr Miller told the court Miss White had told him a little about the flat she used to entertain clients - but not the address - and he had made up the rest.
Confession
He added that it was simply a co-incidence that some of the details he provided were accurate.
Mr Coker asked Mr Miller why he had confessed to his own solicitor that he had been at the flat in the early hours of 14 February 1988, when they had been talking in private and no police officers had been present.
Mr Coker said the solicitor had made a hand written note that read: "I wanted him to clarify to me what he was now saying. That he was there and remembered it or if he's saying that that he was stoned out of his mind and could not remember whether he was there but assumed he must have been because others said he was.
"He is clear that he was there and remembered it."
Mr Miller said the account was "rubbish."
Mr Coker asked him: "Were you in that flat when Jeffrey Gafoor killed Lynette White?"
He replied: "I was not in the flat. I have never seen him."
Mr Coker said: "Did you find her waiting for a punter?"
Mr Miller answered: "That's a ludicrous question. I don't know Jeffrey Gafoor."
Mr Miller said he had been living with Miss White in a flat in Dorset Street, Grangetown, Cardiff, in February, 1988.
Although he was aware she had access to another flat to take clients to he did not know of the location.
The trial continues.