£1.6m Heritage Lottery grant to regenerate Pontmorlais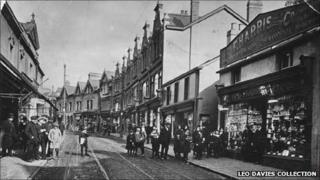 More than a dozen historic buildings in Merthyr Tydfil, some dating back more than 200 years, are to be restored.
The Heritage Lottery Fund (HLF) has given the final go-ahead for £1.58m towards the buildings in the Pontmorlais quarter of the town.
The HLF said the money would help "revitalise this once thriving town".
Meanwhile, heritage projects in Cardiff, Hay-on-Wye and Montgomeryshire have passed a first stage in the grant process towards £1.6m funding.
The Merthyr project involves 15 buildings, including the Morlais Castle Inn, as part of the local council's townscape heritage initiative.
Jennifer Stewart, head of HLF in Wales, said: "The money will help fund essential improvements and repairs to encourage local businesses and visitors back into the area."
There will also be training opportunities for local contractors to learn new skills and create jobs.
The money was earmarked last year, and has now been paid to the council.
It will be concentrated in the High Street area, which was created between 1770 and 1820.
Marlies Pires, owner of the Imperial Hotel and the Morlais Castle Inn - one of the buildings hoping to benefit from funding - said: "Pontmorlais is in a desperate need of regeneration so we are over the moon with the news that this scheme is set to go ahead.
"In the current economic climate it would be impossible for us and other small businesses to carry out the work needed."
Passing the first stage of funding applications are:
Hay-on-Wye Cheese Market, Powys: Aiming to restore the grade II listed Victorian cheese market building and bring it back into community use.
Dyfi Nature Reserve, Montgomeryshire: Plans to extend and the reserve, including a new bird observatory with teaching and exhibition space, remote camera system and a training programme for volunteers.
The next phase of Cardiff Museum, which includes a gallery, temporary exhibition space, cafe and a public area for research and collection activities.
The applicants have two years to develop their plans in order to compete for round two funding.