Environment Agency opens up River Severn for salmon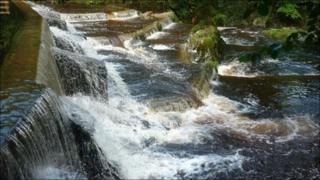 Salmon and other fish can swim the full length of the River Severn, thanks to a project to open up the river.
The Environment Agency opened up the final 15km (nine miles) stretch by removing weirs and building a fish pass at Felindre Mill, near Llanidloes.
The agency said it will attract more anglers to areas where fish stocks have dwindled.
It is part of the Salmon For Tomorrow project to improve access on Welsh rivers.
Salmon benefit from Severn access
Angling is worth approximately £150m to Wales and "creating an improved environment for migratory fish to spawn is essential on economic as well as environmental grounds", said the agency.
The latest round of improvements in the project, funded by the European Fisheries Fund and the Welsh Government, has seen work completed at several sites throughout Wales - opening up 299km (186 miles) of river in 2011.
Director of Environment Agency Wales Chris Mills said: "While we are justifiably proud of our achievements in improving rivers we are well aware there is still a lot of work to be done."
Salmon stocks
He said water quality was better than for decades but fish numbers, especially stocks of salmon and eels, continued to be at risk in rivers.
Tackling migration barriers is seen as part of the bigger picture of meeting new EU standards for rivers.
Other rivers across Wales have also benefited from the project.
The removal of Kentchurch Weir has allowed 160km (99 miles) of the River Monnow to return to its natural flow and condition. It is the largest weir ever removed in Wales, and one of the biggest in the UK.
The project has resulted in improved access for fish to the river's upper reaches and in the immediate vicinity of the weir.
Access has also been created to 42km (26 miles) of the River Clywedog, secured by one of the largest rock ramp passages in the UK, at Lady Bagot's Drive in Rhewl, near Ruthin.
Access has also been improved on the upper River Alyn, after the building of the Caergwrle fish pass.
The Alyn is one of the largest tributaries on the River Dee but has a small fish population. The Caergwrie barrier, along with another down stream at Rossett, is one of the main factors affecting fish numbers.
The Environment Agency's next target is to complete the Rossett fish pass.
Access to 52km (32 miles) of the Ebbw River has also been secured by a rock ramp at Coed Celynen, Abercarn.
Like the River Taff, the Ebbw is recovering from its industrial past and improved water quality means that man made barriers are the only thing preventing the river developing a self-sustaining run of salmon.
Small projects have also produced results on the rivers Afan, Tywi and Teifi, which have opened up 49km (30 miles) of rivers in south west Wales by making several smaller barriers passable.