Neath psychic Dawn Pearson claimed £33,000 benefits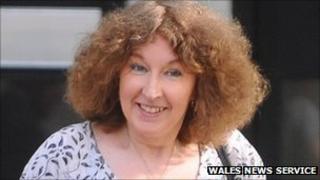 A woman who worked as a self-employed chatline tarot reader has admitted to fraudulently claiming £33,000 in benefits.
Dawn Pearson, 50, from Neath advertised her services on the Psychic TV website.
Customers were charged £1.53 per minute while the 50-year-old claimed to be too ill to work.
She admitted four charges of benefits fraud and was released on bail by Neath magistrates to be sentenced at Swansea Crown Court next month.
The court heard Pearson unlawfully claimed a total of £33,206.82 in income support, job seekers allowance, housing benefit and council tax benefit over 16 months.
Prosecutor John Allchurch, for the Department of Work and Pensions, said: "Suspicion arose that Miss Pearson was working and an investigation was instigated.
"Miss Pearson was working as a self-employed chat line tarot reader between 2005 and 2009 for one company and after that onwards for another company."
On the website, Pearson is pictured next to the description: "Dawn is an excellent Psychic clairvoyant, with many years experience.
"She uses her cards and crystals, and also her spirit guides to get a link with you.
"She is a trained Reiki healer and has been using all of her gifts to help people for many years.
"Dawn will happily discuss any pressing relationship or career questions, but can also give general guidance on self-development using her training as a life coach."
'Great stress'
The court heard she was claiming benefits because she was "unable to work due to illness and disability."
Pearson was described as a "lady of previously good character" by her solicitor Paul Jackson.
Mr Jackson said: "There have been problems of an individual nature. She had got herself into debt.
"It was partly hers but a great deal came from her generosity with regards to her mother who she was helping out with large catalogue debts at the time.
"That doesn't excuse fraud - she became desperate.
"She had brought it upon herself and wasn't brave enough to deal with it. These things do not go away and it caused her great stress."