E. coli probe Cardiff takeaway given trade ban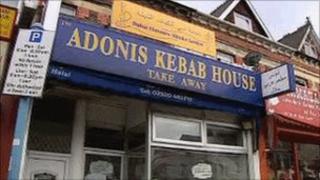 Officials investigating the source of an E. coli outbreak in south east Wales have imposed an emergency order stopping trade at a Cardiff takeaway.
Adonis Kebab House in Roath was closed temporarily as a precaution but Cardiff council sought further restrictions as the inquiry continues.
The outbreak led to seven food poisoning cases, with a further five under investigation.
One person is seriously ill in hospital.
Members of the Environmental Health Team sought the emergency prohibition order at Cardiff Magistrates Court on Thursday.
A council spokesman said: "The court was satisfied that health risks existed at the premises and granted the order which will now be posted at the kebab house."
'Investigations ongoing'
On Monday it emerged that the kebab house was given a full inspection on 22 July and was rated as one out of five under the food hygiene scheme.
The council spokesperson said after the full inspection, under the scheme, "a certain time scale" has to be given before publication of the rating to allow the opportunity for any appeal.
"The rating is due to be uploaded to the Food Standards Agency website by the 28 August," the council added.
Public Health Wales is asking people who have eaten from the Adonis Kebab House since Monday 18 July 2011 to help with the investigation by giving their details via a form on the Public Health Wales website.
Its chair Dr Gwen Lowe, consultant in communicable disease control for Public Health Wales, said: "Since Monday, 47 people have already given us their details and we will be contacting them very shortly.
"Investigations are ongoing and we continue to monitor the situation closely."
Kidney failure
Dr Lowe added: "E.coli O157 is a serious bacterial infection that causes abdominal pain and diarrhoea.
"The symptoms of E.coli O157 range from mild diarrhoea, stomach cramps to bloody diarrhoea. Most people recover without complications, but the most severe cases can develop kidney failure.
"Anyone who is experiencing these symptoms should contact their GP or NHS Direct Wales on 0845 4647 for advice."
People can become infected by eating contaminated food, through contact with farm animals or with contaminated water.
The infection can also pass from person to person and, while the length of the illness can vary, people are usually ill for up to two weeks.
To limit the spread of the illness, health officials recommend good hand washing after using the toilet or changing nappies, and before and after preparing food.