Safety call after Paralympian critically hurt in crash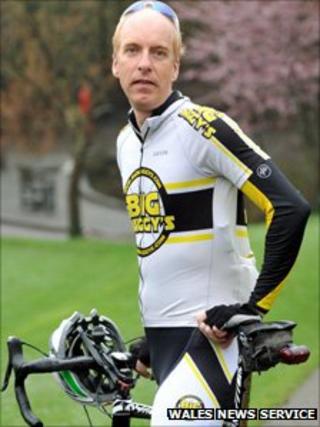 UK governing body British Cycling has called for road safety to be highlighted at government level after a crash in which a Paralympian was seriously hurt.
Double Paralympic cycling champion Simon Richardson, 44, from Porthcawl, is critically ill after he was injured in an alleged hit-and-run.
He was in collision with a van while cycling near Bridgend on Wednesday.
A 59-year-old driver has been released on police bail after being arrested.
South Wales Police said the motorist, from Cowbridge, Vale of Glamorgan, was released pending further inquiries after the collision on the A48.
Mr Richardson, who won two gold medals and a silver at Beijing in 2008, suffered multiple fractures.
His sponsor, Phil Jones, said the crash is likely to end his dreams of competing in London 2012.
British Cycling has expressed concern over general road safety for cyclists and called for a government-backed campaign.
Mr Richardson is no longer on British Cycling's para-cycling squad, but Gareth Sheppard, the team's performance manager, said: "All our thoughts are with Simon and his family".
He called for increased awareness of cyclists by all road users: "You've got little protection as a cyclist because you are so exposed.
'Deeply shocked'
"We very much want to make sure racing and cycling in general on the road is safe and there does need to be a government-backed campaign on the issue."
Paralympics GB chief executive Tim Hollingsworth added: "We're deeply shocked by the news of Simon's accident.
"He's in our thoughts and, on behalf of everyone in the British Paralympic family, we wish him a speedy recovery."
Mr Richardson was airlifted from the scene of the collision outside Crack Hill House, Bridgend, and flown to the University Hospital of Wales in Cardiff.
On Thursday, his condition was described as "comfortable and stable".
Rehabilitation
Earlier, Phil Jones told BBC Wales: "Although Simon wasn't currently within the GB Paralympics performance programme, the times and training that he had been putting in up until now were certainly making him a very top contender to be considered for the London 2012 Paralympics."
He said the severity of Mr Richardson's injuries was all the more distressing as he had been involved in another serious crash in 2001, which left him permanently disabled.
He was hit by a car, which left him with serious leg and back injuries and no feeling down his left hand side.
Doctors recommended cycling would help his rehabilitation, so he continued, using a specially-adapted bike powered by his right leg.
It was during his five-year rehabilitation that he started competing and became a medal winner in Beijing 2008. He and was later awarded the MBE.
"He really is a brilliant guy, made of real Welsh nails, highly motivated, and with such a positive outlook on life," Mr Jones added.
South Wales Police have appealed for witnesses to the crash at about 09:45 on Wednesday, or anyone who may have been travelling between Cowbridge and Bridgend on the A48 and saw a white small van leaving the area, to come forward.
Anyone with information is asked to contact the South Wales Police roads policing unit on 02920 633438 or Crimestoppers on 0800 555111.