Hoax 999 calls made public by south Wales fire service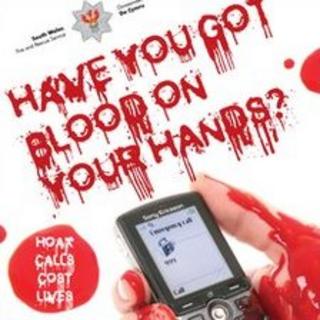 A fire service is putting recordings of 999 hoaxes onto its campaign website to help prevent the 2,000 or so such calls received each year.
South Wales Fire and Rescue Service said many malicious calls were made by children, often during the summer holidays, but adults also phoned.
Control staff took 2,100 hoax calls last year, with over 500 resulting in officers attending the scene.
A selection of recordings of hoaxes will be made public from Tuesday.
The fire service is urging anyone who knows any of the callers to report them.
Andy Marles, the service's chief fire officer, said hoaxers tied up "valuable time and skills that could be used elsewhere at real emergencies, where real lives may be at risk".
"What surprises many people is that adults are guilty of making these calls, it is not just children 'messing about' in phone boxes," he said.
"Our control staff will challenge any callers who may seem suspicious, but some of these calls are indistinguishable as fake which means we send firefighters to an incident which doesn't exist.
"Making a call of this kind is a criminal offence and we have teamed up with Crimestoppers to urge anyone who knows any of the callers in the examples on our website to call them and report their information."
Challenged
Repeat offenders can be fined or sent to prison.
Last year, about half of hoaxers abandoned their call and hundreds more were challenged by control staff with no crews dispatched.
The number of incidents where fire crews were sent on bogus calls fell from 658 in 2009 to 538 last year.
This year so far, south Wales fire service has taken 1,225 hoax calls with 274 resulting in personnel attending.
The campaign will run for several months with fresh hoax calls posted onto the blood on your hands website every two weeks.