Korean War serviceman Peter Jones' Penarth honour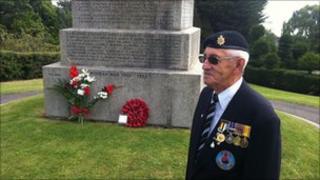 Veterans have attended a ceremony to mark the name of a Royal Marine killed in the Korean War being added to a memorial in the Vale of Glamorgan.
Peter Jones was just 18 when he died attacking a major supply route in October 1950. He was buried at sea.
Until now, his name had not been included on the Penarth memorial to the fallen in Alexandra Park.
Korean veteran Roy Goddard noticed his name was missing and began a campaign to get it added.
"I've been trying for years and its actually happened, it's beautiful with all his friends turning up and Royal Marines turning up, it's something I never expected," said Mr Goddard.
Peter Jones' sister, Eileen Chick, was among family members who attended Tuesday's ceremony.
'Closure'
It was Mrs Chick who first learnt of her brother's death.
"My mother had gone to work in the grammar school and I'd just got home from school myself, there was a knock on the door and I opened the telegram," she said.
"It said that Royal Marine Peter Jones had been killed in action. I rang the school where my mother was and told her Peter had been killed. She wasn't the same for a long time."
Mrs Chick said it was good to see her brother's name added to the memorial.
"It's lovely to see Peter's name there. It's a closure. To me it seems Peter has come home and its good that nobody has forgotten about him," she added.
The names of two servicemen awarded the Victoria Cross in World War I have also been added to the memorial.
Capt Richard Wain refused to stop fighting even after his tank was hit and six of his men lost their lives.
Sgt Samuel Pearce had cut through barbed wire and destroyed a blockhouse on his own, moments before he was killed.
Coun Geoff Cox, cabinet member for visible and building services at the Vale of Glamorgan council. said the men were being recognised for the sacrifice they made for their country.
"The importance of their role, and indeed the role of our armed forces nationwide, cannot be underestimated," he said.
"It is only right that they are remembered here in Penarth where they and their families lived".