London 2012: Cardiff gearing up to open Olympics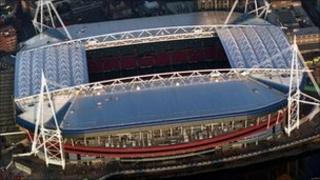 It is one year until Cardiff launches the London 2012 Olympic Games.
The first event will be held at the Millennium Stadium on Wednesday, 25 July when it hosts women's football.
It is not yet been revealed how many tickets have been sold for the opening match or any of the other 10 games, including the bronze medal match, at the stadium.
The official opening ceremony at the Olympic Stadium in London will be on Friday, 27 July, 2012.
"It's a great feather in our caps and ensures the eyes of the world is focused on Wales right before the beginning of the Olympics," said former Wales women's captain and chair of Sport Wales Laura McAllister.
"We've got to see it as not just Cardiff. Clearly Cardiff has got the infrastructure and it will have the games at the Millennium Stadium.
"It's an opportunity for Welsh people to see Olympic competition in Wales. Cardiff is accessible for a big, big section of the Welsh population.
"We really want to showcase what we have on offer in Wales.
"Cardiff and Wales is fast becoming known worldwide as sporting locations and this is another opportunity to promote that and sell Wales to the world."
Football at the Millennium Stadium kicks off at 16:00 BST while matches in Coventry and Glasgow start an hour later.
On Wednesday Cardiff will hold a free event to coincide with a year until the official start of the games.
The event, in Cardiff Bay, aims to get people to try out lots of different sports and encourage them to take up volunteering.
Cardiff council's executive member for sport, Nigel Howells said: "This event marks an exciting 12 month countdown until what will be a fantastic international sporting spectacle.
Future sports stars
"Cardiff is proud to be playing an important part of the Olympic Games, hosting the first event at the Millennium Stadium as well as being the selected training camps for several Olympic and Paralympic teams as they make last minute preparations for London 2012.
"We expect an international audience to have all eyes on our city and following the games we will continue to maintain a legacy that will provide excellent sports provision for future sports stars, aided through the hard work and dedication of volunteers."
Cardiff has set up a multi-agency forum to deliver the games in the city.
It involves working with the London Organising Committee (Locog) to ensure Cardiff delivers an Olympic experience for everyone visiting Cardiff next July and August.
Many schools are taking advantage of a Get Set resources package to use sport as a means to improve curriculum standards.
Youngsters will also have a focused sports programme across 120 primary and secondary schools and a range of competitions has been arranged.
There is also a young ambassador programme for young people to support sport events and activities, while voluntary clubs are working to improve standards in order to cater for new demand across a range of sports.
One of the other aspects is a dedicated coach education and leadership programme which aims to inspire a new workforce to support Cardiff's sporting infrastructure.