Cardiff council to make 'significant' office disposals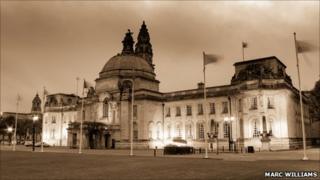 Cardiff council expects to close a significant number of its 51 office buildings over the next five years, according to a report.
It aims to concentrate administrative work at four sites: County Hall, City Hall and two Grangetown offices.
Councillor Mark Stephens said: "This is part of our transformation agenda."
Meanwhile a range of "major disposals" is under way for this year - including a former junior school site - and is expected to bring in more than £5m.
Cardiff council owns more than 500 buildings which deliver services to the public, including schools, offices, leisure centres, libraries and day care facilities.
Its property estate, including investments in shops, workshops, pubs and hotels, is estimated at £1.5bn.
Last year the authority, Wales' largest council, said it faced a funding gap of up to £90m over the next three years.
The local authority is also facing a maintenance backlog for its properties of more than £84m, with £48m of that classed as essential or urgent.
Last year, the Welsh Government auditors found the council's asset management plan did not have sufficiently robust principles to enable effective management of its property.
Following this review, the council decided to appoint a corporate property and estates manager to develop a land and property strategy.
A report before councillors said a blueprint was being drawn up for its office space that will lead to a "major cultural shift" in working arrangements for the council's 3,700 employees across 51 office buildings.
The four main offices include two - Willcox House and Global Link - in Dunleavy Drive, Grangetown.
They would have an increase in occupancy, allowing a significant number of the remaining office buildings to be closed and leases terminated, or disposed of if freehold.
It addition, there would be a move to fully open-plan offices, with "significant implications" for staff and managers as walls and spaces for filing cabinets are removed.
The policy of "free desking" - one desk being used by more than one member of staff - is to be extended after a survey of how desks are used.
Building disposals
Mr Stephens, executive member for finance and service delivery, said the four core buildings had room for up to 950 further staff, meaning a corresponding need for fewer office spaces at the remaining 47 buildings.
Around £17m would be spent in upgrading the four core buildings to an open-plan style, with appropriate work to increase IT capacity, he said.
He said: "I don't want to give the impression that this will happen overnight. It's a long-term strategy."
The lease or closure of redundant office space would also help reduce the councils "hotel" costs such gas, electricity and rates, he said.
"We spend just under £6m on energy costs, including schools. If we can make some strides on energy efficiency, we can save additional money that's not included in our plans yet.
"The bottom line is that we still have to save money."
The depressed state of the property market has meant the council has not made the money it expected from the sale of buildings it no longer needs or uses, according to the report.
Building disposals the council expects this year include a former care home and the former Hawthorn Junior School site as well as Castlefields.