Bosch enters last day of production at Miskin plant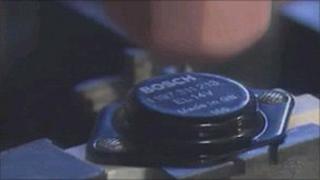 The final day of production at the Bosch plant in the Vale of Glamorgan is taking place, ending 20 years of manufacturing at the site.
The German motor parts firm is transferring work to Hungary and the remaining 489 staff at the Miskin plant will finish work on Thursday.
Gloucestershire engineering company Renishaw will take over the factory from October.
But they said it was too early to talk about jobs.
The Bosch factory opened in Miskin in 1991 to make alternator products for cars.
'Accept reality'
It had the help of £21m in public grants from the Welsh Development Agency, which was subsequently absorbed into the Welsh Assembly Government.
But 18 months ago, Bosch announced it was closing, with 900 job losses.
"It was probably the biggest single blow to the Welsh economy as a result of the recession," said BBC Wales business correspondent Nick Servini.
"At the time there was a 45% drop in sales of alternators.
"The German company carried out a feasibility study and it concluded it should move work to Hungary where labour costs are roughly two-thirds what they are in Wales.
"At the time, the firm said it looked at a number of other options including things like manufacturing wind turbines at this site.
"But in the end, it couldn't avoid closing it down or certainly moving from this site."
There was anger at time of the closure announcement in January 2010 when 900 workers were told they would lose their jobs with Hungary offering cheaper labour costs.
The feeling among staff then was that Bosch had not invested in this site as much as maybe they could have in the years building up to the recession. That was denied by the company.
The last alternator for the automotive industry is expected to roll off the production line at around 2200 BST on Tuesday, with the majority of the remaining 489 employees working their last day on Thursday.
'Sad day'
"It's a very sad day for all of the people who have been employed by Bosch over the last 20 years," said David Lewis, regional officer with Unite union.
"But it's also an opportunity for people to try to move on, use the cushion they've got from their redundancies to set themselves forward for the future.
"I think at the end of the day, people accept reality, they know they have to deal with it, they're intelligent and they can deal with it and then they start planning for their future.
"I think the anger subsides, like everything in life, and they are now moving on to what they can do positively for their future."
Mr Lewis said some of the workers have used their redundancy packages to set up their own businesses, while others had found work elsewhere or re-trained with some retiring.
And, despite being "surprised", he welcomed the arrival of Renishaw
"We knew there were a number of companies interested in the site but no-one had actually put their names forward to purchase it," he added.
"We were informed yesterday that that was a real possibility and then the press release came out saying who it was.
"It's excellent Renishaw are coming to the area. They are a top engineering company with just the kind of jobs that we need to attract to this site here."
Ben Shaw, a senior officer at Renishaw, told BBC Radio Wales he could not give any details as to what the company was going to produce at this site except that in the long run the aim was to create hundreds of jobs.
Business Minister Edwina Hart said she was pleased Renishaw had recognised the strengths and skills people in Wales had to offer.
"The announcement that Bosch was to close their plant was a huge blow for the local community but today's news can give hope of new highly-skilled jobs being created in Miskin," she said.
Vale of Glamorgan MP Alun Cairns said Renishaw's arrival is cause to be "extremely optimistic".
He said: "I've spoken to the members of parliament around Gloucestershire... they speak exceptionally highly of Renishaw.
"Their skills development record and apprenticeship record is second to none and I think this is very good news for the Welsh economy.
"They (Renishaw) are expanding quite rapidly and I think it's up to us to raise our game to respond to the demands that they create and help Renishaw create as many jobs as possible, not only for the Vale of Glamorgan, but it's exceptionally important to the valleys communities both in east and west Wales because of the fantastic links on the M4."