Dyffryn House and Gardens to be run by National Trust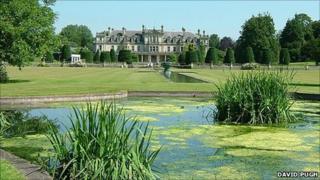 The National Trust is taking over the running of a mansion house and its Grade One listed Edwardian garden.
The Vale of Glamorgan Council has agreed to lease Dyffryn House and Gardens to the organisation for the next 50 years.
It says the trust is better placed to manage the attraction and hopes it will double visitor numbers.
A grant of £600,000 has been secured to partially restore the mansion and the trust will also oversee the project.
It is the second council-managed mansion in south Wales to be leased to the National Trust in recent days.
Tredegar House in Newport, which faces £4.5m worth of work, is being leased for a period of 50 years.
Vale council leader Gordon Kemp said: "The gardens attract around 50,000 visitors each year and we expect to see that number double under National Trust management.
"We hope this will bring benefits to the wider tourism industry in the Vale.
"We are also confident that the National Trust will successfully oversee the restoration of the house and its opening as a visitor attraction."
Thanks to Heritage Lottery Fund (HLF) grant funding over £6m has been spent restoring the garden in the last 10 years.
That work is nearing completion with the final touches being made to a new glasshouse.
HLF has recently granted a further £600,000 towards partial restoration of the house.
John Morgan, the trust's director for Wales, said: "Dyffryn Gardens is a truly outstanding garden and we look forward to building on the good work the Vale of Glamorgan Council.
"We are committed to continuing the restoration of the garden rooms, arboretum and parts of the house to make Dyffryn Gardens a must visit destination for everyone with a love of gardening and the outdoors."
It is expected that the trust will take over the property early next year.