Terrapins who survived flight in case found at Cardiff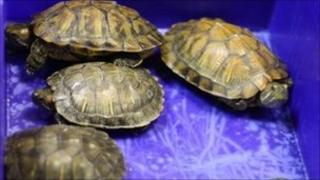 Six terrapins have been rescued after being smuggled into Wales on a long-haul flight from China.
Border officials at Cardiff airport detected the reptiles hidden in the baggage of a 54-year-old woman from Tonypandy, Rhondda.
She was let off with a warning and the terrapins have been handed to a local rescue charity.
The UK Border Agency said there is a complete ban on bringing live animals into the UK without a permit.
Four adult terrapins were hidden in the woman's hand luggage, while she had stashed two more baby terrapins in her suitcase without food or water.
Ann Ovenstone, of the International Tortoise Association, which is based in Sully, Vale of Glamorgan, said it was a "miracle" they had survived.
The charity has now taken the reptiles in and is caring for them while they recover from their shock. The two smallest ones are believed to be just a couple of weeks old.
She said: "It is unbelievably cruel because they would have endured a long-haul flight from China to Amsterdam, then a wait and then a trip to Cardiff.
"The two who were in the hold will have been in freezing temperatures, when they used to temperatures of 15C, so they would have been partly-frozen and they can only feed when they are in water, so they will have been starving."
She said it was "absurd" the woman had gone to such trouble to smuggle the animals in as they can be bought in most pet shops in the UK for about £10.
'Cracking down'
"Apparently she paid around £300 each for them as a gift to her niece."
She said it was too early to tell if the terrapins would survive their ordeal.
"Reptiles can take an awful lot and then a couple of weeks down the line they can just suddenly die. At the moment they are doing fine but they will need a lot of TLC."
The reptiles were discovered on Thursday, 5 May, when the woman was stopped when she returned from China on a flight via Amsterdam.
Alex Lawther, assistant director for the UK Border Agency in Wales, said terrapins could only be brought into the UK if the correct permits had been applied for and issued, and the animals had been through quarantine.
He said: "The UK Border Agency is cracking down on all types of smuggling, including live animals.
"There is a complete ban on bringing live animals into the UK unless you have the necessary permit.
"Anyone tempted to bring animals into the country illegally should be aware that if any are found by our officers they will be seized."