Decision to not publish relief road document criticised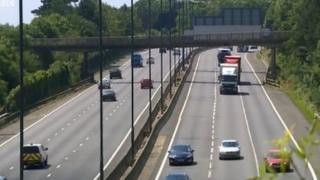 A decision not to publish a document on the conclusions of a consultation on the planned M4 relief road has been criticised.
Ministers approved the paper last week before announcing they backed plans for the new road, south of Newport.
Cabinet agendas and papers normally appear on the Welsh government website six weeks after each cabinet meeting.
Liberal Democrats said the decision was "outrageous". Ministers have been asked to comment on the criticism.
The business case for the £1bn road - put forward by the engineering firm Arup who carried out the consultation - has been published.
Transport Minister Edwina Hart has already been heavily criticised for the way she took the decision to build the road.
She announced her decision in the Senedd last Wednesday, the day before the end of term, and a week before an assembly committee was due to publish a report on the subject.
The minister insisted she was "getting on with governing", and that her decision was correct.
The Welsh government decision not to publish the paper appeared on its website earlier this week:
The statement said: "The minister for economy, science and transport has been asked to agree a paper on conclusions of the M4 Corridor around Newport Consultation and the Proposed Way Forward for the meeting of the Cabinet on 14 July 2014.
"The agenda, minutes and papers of the meeting are due to be published in the week commencing 25 August 2014 and will be available on the Welsh government internet site.
"The contents of this paper are considered exempt from being disclosed and, as such, this paper will not be published with the respective minutes of the meeting".
'Not responsible'
Welsh Liberal Democrat Transport spokeswoman Eluned Parrott said the decision not to publish the document was "outrageous".
"Again this evasive Welsh Labour government shuns transparency, the consultation process appears to have been nothing more than a sham," she said.
Ms Parrott claimed Mrs Hart had "ignored" evidence put forward in the consultation.
"Blowing one billion pounds and investing the Welsh government's entire borrowing powers on a single road is not the behaviour of a responsible government.
"There are cheaper and more effective options on the table but the Welsh Labour Government refuses to acknowledge them," she added.
The Lib Dems and Plaid Cymru favour a cheaper, alternative relief road route, involving upgrading the A48 Newport Southern Distributor Road.