Call for flexibility on new Welsh language rules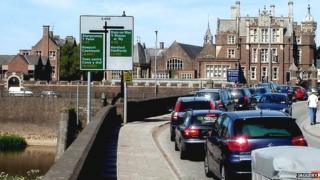 A council leader says new rules on how public bodies use the Welsh language should reflect the strength of the language in different parts of Wales.
Gwynedd council's Dyfed Edwards said less emphasis on bilingual websites and forms should be allowed in some cases.
The regulations, for councils, the Welsh government and national parks, would also ensure that Welsh speakers are available on main switchboards.
The Welsh language commissioner is assessing how to apply the rules.
Under the Welsh language standards the organisations would have to make it clear that they welcome correspondence with the public in Welsh and give the language priority on road signs.
Commissioner Meri Huws is considering how the rules, published by Welsh ministers in January, should be adopted by each body.
First Minister Carwyn Jones is due to clarify next week when they will come into force.
'Huge inroads'
Mr Edwards, also spokesman on language issues for the Welsh Local Government Association (WLGA), said it was important there was flexibility to reflect the different levels of usage of Welsh.
"I think the first thing we need to establish is that the Welsh language is a national language - that is, it's a language for all parts of Wales, every citizen in Wales, and I think the fact that we have standards on a national basis is important, in order to underline that," he said.
"However, I do believe that there is potential for a different emphasis, depending on what the issues facing the language are in that region or in that council area.
"I think we have to be flexible about that. I have said in my discussions with the first minister and the commissioner.
"I have said I think it would be a success if one authority, let's say in the south-east of Wales, manages to make huge inroads in terms of those that are learning the language, and those taking advantage of Welsh medium education, for example.
"Do we then have to have such emphasis on such things like bilingual forms and websites and so on? My own personal view is I don't think we should."
A spokesman for the language commissioner referred to an advice note Ms Huws had given to Welsh ministers, which said: "The standards and the related definitions should expand and not restrict people's ability to use Welsh.
"There needs to be certainty that these standards lead to a general improvement over time for those using the Welsh language."
In a statement the Welsh government said: "We are in full agreement with Dyfed Edwards that the focus of the new standards is to improve Welsh language services for people across Wales and to create more opportunities for people to use the language in their daily lives.
"The first minister will respond to the Welsh language commissioner's investigation reports and clarify the timetable of the standards next week."