Opposition 'breach of faith' claim over budget denied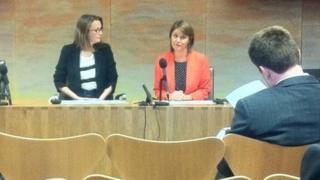 Welsh ministers have denied opposition accusations that they have acted in bad faith on education.
The row centres on the Pupil Deprivation Grant (PDG), to be spent on pupils eligible for free school meals.
The PDG was extended as part of a deal with the Liberal Democrats and Plaid Cymru to allow the Welsh government's budget to be passed last year.
The two parties said ministers had broken a pledge that PDG spending should be extra money for schools.
The PDG works out at £918 per pupil and has been used for schemes such as numeracy and literacy projects, and support for teaching assistants.
The Welsh government has also committed itself to protecting education spending, by setting it at 1% above any changes to the money it receives from Westminster.
The opposition parties said comments from the education minister, and assurances given to them privately, led them to believe the PDG would be separate from this commitment.
'Misled?'
At an assembly committee hearing in October, Huw Lewis said: "If any local authority officer or politician is under the impression that the uplift in the PDG is a get-out-of-jail-free card when it comes to the 1% commitment, I will disabuse them of that very rapidly".
In the assembly in April Mr Lewis told Lib Dem AM Peter Black he had "repeatedly" told councils they could not use the PDG to meet the 1% commitment.
On Tuesday, Plaid Cymru education spokesman Simon Thomas accused ministers of a "serious breach of confidence" that could affect Plaid Cymru's attitude to a future budget deal with Labour.
At First Minister's Questions he said: "Is this a sign of the government negotiating a budget deal in good faith and has the minister misled the assembly?"
Local government minister Lesley Griffiths, who was standing in for Carwyn Jones, said the minister had not misled the assembly and ministers had been "completely transparent on the matter".
Lib Dem education spokesman Aled Roberts said: "Both [Finance Minister] Jane Hutt and Huw Lewis have said publicly and privately that the PDG is a standalone grant and should not be used to meet other commitments."
'Proud'
But the Welsh government has now made clear that the 1% education spending increase is made up, in part, by the PDG.
A spokesman said: "We have written to all local authorities in Wales last year to explain exactly how this year's 1% increase in education funding would be met from a range of Welsh government funding sources, as it is every year.
"The important fact is that we have increased spending on Welsh schools by more than 1% above overall changes to the block grant since our commitment in 2011/12 and we're proud of this achievement".