No inquiry into Welsh rugby finances, AMs decide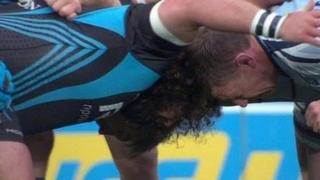 A committee of assembly members has decided against ordering an inquiry into Welsh rugby's finances.
The Communities, Equality and Local Government Committee had invited correspondence from the Welsh Rugby Union and Regional Rugby Wales.
The WRU and regions have been embroiled in fierce row over money, control of the game and tournaments.
Conservatives said the committee had "blown an opportunity" to help Welsh rugby when it was in grave danger.
The committee is expected to make a statement in the next few days explaining its decision.
In January, committee chair Christine Chapman invited both sides to set out their positions, in response to a question from Welsh Conservative leader Andrew RT Davies.
Mr Davies suggested the committee could act as an "honest broker", by producing an independent report into the best way of financing and running the national game.
In December, representatives of the four regions wrote to AMs lobbying for an independent inquiry into the funding and structure of top-level rugby in Wales.
On Thursday, Mr Davies said: "No-one is suggesting that politicians should intervene directly, but the launch of an inquiry would have provided an independent, objective insight into the game's issues and assisted the WRU and regions in the quest for a sustainable future."