Bailout claim from Welsh Tories on extra £50m for NHS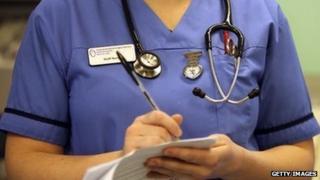 An extra £50m announced for the NHS in Wales has been described as a bailout by Welsh Conservatives.
The extra money is on top of the £570m extra for the NHS over three years announced in the main autumn budget.
It will not go to health boards but be held in reserve to ensure "sufficient budgetary cover" for NHS costs.
The Welsh Conservatives said the cash was an admission of a "catastrophic" failure by ministers to properly fund the NHS.
Last year Wales' seven health boards received an extra £82m from the Welsh government.
The £50m this year has not yet been allocated to particular areas within Wales' NHS budget.
Finance Minister Jane Hutt announced the move as part of the Welsh government's second supplementary budget for 2013-14.
In a statement, the Welsh government said: "Since the three-year funding package was announced in October, the minister for health and social services has worked closely with local health boards on their financial outturns.
"However, there remain some financial pressures."
Conservative Shadow Health Minister Darren Millar said: "This bailout proves Carwyn Jones and Welsh Labour have got it catastrophically wrong on NHS funding.
"The last four years have seen one messy Labour bailout after another and desperate attempts to break even.
"It's time ministers properly prioritised the health service, supported frontline staff and gave patients the timely and high quality treatment they deserve."