Dafydd Elis-Thomas: Wales needs tax powers for 'proper democracy'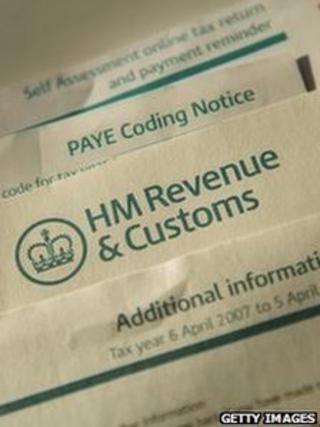 Tax powers need to be devolved so Wales can have a "proper democracy", the assembly's former presiding officer has said.
Plaid Cymru's Lord Elis-Thomas told BBC Wales that voters had to be convinced that the Welsh government should have some powers over income tax.
Draft legislation before parliament lets the Welsh government borrow money and control some smaller taxes.
Powers to vary income tax by up 10p in the pound would depend on a referendum.
First Minister Carwyn Jones has said that restrictions on how those income tax powers could be used make them "pretty much useless".
If devolved, the Welsh government would not be able to alter individual income tax bands. A so-called "lockstep" rules means that if ministers in Cardiff wanted to cut or increase a tax band, they would have to do the same to all other bands.
'Proper constitution'
Appearing on BBC Wales' Sunday Politics Wales programme, Lord Elis-Thomas said: "They [income tax powers] are absolutely essential for a proper constitution for Wales."
Governments around the world had a responsibility to raise some of the money they spend, he said.
"I think not to do that is not to have a proper democracy," he added.
Asked if a referendum could be won, he said: "I think people have to be convinced yet - I don't think they want it now."
On the same programme, Welsh Conservative leader Andrew RT Davies said the lockstep made it "extremely challenging" for the Welsh government to cut taxes.
Last year the Tories laid out plans to cut the 40 pence rate of income tax in Wales.
But under the powers now on offer from Westminster, that would not be possible without changing all other tax bands too.
Asked if he would be happy to cut all income tax rates at the same time, Mr Davies said: "That would be extremely challenging for any Welsh finance minister to do."
Mr Davies attacked Labour, saying its position was unclear following comments by Shadow Welsh secretary Owen Smith.
'Trap'
Last week Mr Smith called the income tax powers a "trap" to force the Welsh government to raise more of the money it spends.
He later said claims of a Labour split were "desperate" and the idea the party's support for devolution had waned was "nonsense".
Mike Hedges, Labour AM for Swansea East, said there should be no confusion over his party's position.
He told the Sunday Politics: "Carwyn Jones is leader of the Welsh Labour Party - he was elected leader of the Welsh Labour Party so there shouldn't be confusion."
The powers on offer in the Wales Bill, currently going through parliament, stem from the Silk Commission inquiry into funding.
Speaking on BBC Radio Wales' Sunday Supplement programme, Lord Bourne - a former Tory group leader in the assembly and a member of the commission - said: "Unless Owen Smith does move his position, and that of the parliamentary party in the House of Commons, I fear that we are seeing pretty much the death throes of tax-raising powers for Wales.
"And it's a very odd sort of law-making body that doesn't have tax-raising powers and borrowing powers.
"As has been rightly said community councils have tax raising powers. Are we really saying that Wales doesn't deserve the same as a small community council?"
The Welsh government says a vote on income tax should not take place unless the Treasury agrees to change the Barnett formula, which is used in Whitehall to determine funding for the devolved nations and regions.