Social services bill: Plan to give equal access to care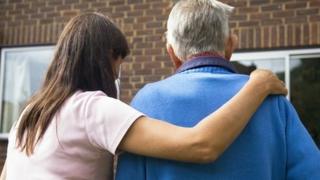 Plans to overhaul social services and make access to care equal no matter where a person lives have gone back before the Welsh assembly.
The bill aims to simplify the laws that regulate social care and make sure councils assess the needs of carers.
The Welsh government says it is one of the biggest and most complex pieces of legislation to go through the assembly.
One amendment proposed to the bill could see parents banned from smacking their children.
Ministers oppose the move, fearing it could delay the rest of the Social Services and Well-Being bill.
Among changes planned by the government are:
Ensuring people are assessed according to their needs, regardless of where they live
"Portable assessments", meaning people will not have to be re-assessed if they move to a different local authority
A national adoption service
Assessments of carers' needs to find out if they are eligible for help from social services
Opponents say the large number of technical amendments tabled by the government itself shows the bill has been poorly drafted.
But deputy social services minister Gwenda Thomas said she disagreed "completely" with such criticism.
"In relation to the drafting of the bill, this is the largest and most complex bill yet debated by the assembly, and it is absolutely critical that we get it right," she told AMs.
"I make no apology, therefore, for the number of amendments technical or otherwise, that I have tabled.
"It is inevitable, I think, in a bill of this size and public importance that changes arise, not least because of my genuine desire to engage widely with and listen to, those who are affected by the bill..."
There has also been criticism about a lack of detail on how some reforms will be introduced and who will be affected by changes.
The bill gives ministers powers to make regulations at a later date, for example on deciding the criteria for who is eligible for care.
In a statement on Monday, Mrs Thomas set out the principles - or "policy intent" - that will go into those regulations.
It follows a warning from the assembly's cross-party Constitutional and Legislative Affairs Committee that the bill "has relatively little detail on its face" and that it "lacks the level of information regarding the policy principles that we would expect to see".
The vote on a smacking ban, and on many other amendments not reached during Tuesday's debate, is now due to take place next week.
Plaid Cymru AM Lindsay Whittle's amendment to remove the legal defence of "reasonable punishment" for anyone accused of assaulting a child has support from AMs in other parties including some Labour backbenchers.
Ministers say they have no intention of banning smacking before the 2016 assembly election, and Labour AMs will be ordered to vote against.
The government thinks a ban would need a long period of public consultation.
They also fear a legal challenge to the legislation could delay the bill.