Action on allegations against Lib Dem William Powell 'appropriate'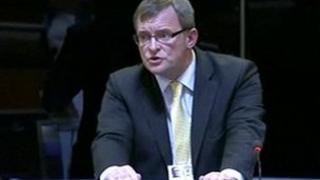 Kirsty Williams has said the Welsh Lib Dems took appropriate action after allegations about one of their AMs.
The Welsh Lib Dem leader was speaking at a Cardiff Bay news briefing.
It emerged at the weekend that Mid and West Wales AM William Powell was given a formal written warning about his behaviour towards a young activist.
The woman alleged that he gave her and two other women the strong alcoholic drink absinthe, touched her leg and put his hands round their waists in 2011 .
Ms Williams said she was assured that the victim had been told by a local party chairman that Mr Powell had been warned and had apologised.
She told journalists: "There has been a formal process.
'Strike a balance'
"He has been issued with a written warning and he has apologised for his behaviour.
"As far as we are concerned that matter has now been dealt with."
Ms Williams said the party's disciplinary procedure had to "strike a balance" between protecting confidentiality and being transparent.
She said she wanted a culture where complainants "can come forward in a confidential manner".
"We felt that it was appropriate to take forward the (disciplinary) process, as we have outlined in the statement (released by the party on Saturday) and to issue that warning.
"There is a balancing act to be had because, at the same time as wanting to be open and transparent, there are issues around confidentiality and women coming forward and not wanting to have their concerns splashed all over the media."
Mr Powell made an unreserved apology to a female activist, now 21, after the incident and he was given a formal written warning last year.
A party statement on Saturday said Mr Powell was told that any future misdemeanour could result in more serious sanctions being imposed.