Pupils have 'no idea' how to take maths tests, report warns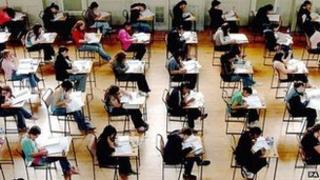 Many pupils in Wales have no idea how to take a maths test, a highly critical report has found.
From May next year, children will sit numerical reasoning tests in an effort to improve numeracy skills.
But the results of pre-testing revealed learners did not understand basic concepts or check their work, copied from each other, gave ridiculous answers or left most questions blank.
Education Minister Huw Lewis said he would boost funding for the tests.
The report was drawn up for the Welsh government by Acumina, the company which will be running the tests.
One teacher cited in the report said: "The numeracy was not the problem - children don't have knowledge of how to sit a test."
The report, which examined the results from sample tests taken in May 2013 by more than 200 children in each school year between 2 and 9, says:
The pre-test provided clear evidence of a lack of understanding of how to work in a test situation. Some learners had clearly copied from each other. Others had little or no knowledge of how to use their time effectively, including checking their answers.
Many learners left some or most of the questions blank. There appeared to be a reluctance to 'try and see'. Rather, if the route through a problem was not immediately apparent, pupils of all ages appeared reluctant to engage.
Some learners clearly did not know the meaning of words such as 'total', 'fewer than', 'height', 'perimeter', 'area' and 'profit'. This was worse for the younger children but was still evident for older year groups.
Some children displayed a worrying lack of number sense giving answers that made no sense within the given context. Many learners adopted an 'if in doubt, add' strategy to a wide range of problems. There was almost no evidence of checking strategies.
Many learners appeared not to know how to use a calculator effectively. In all year groups, some learners used their calculator inappropriately, for example adding £5.99 and 85p to give the answer £90.99 and many struggled to interpret, for example, 1.5 in the context of money, giving the answer £1 and 5 pence.
Average scores were low for all age groups, according to the report, ranging from 19% to 29%.
Mr Lewis said: "Findings from the numerical reasoning pre-test have revealed that the scores for the test items were lower than might otherwise have been expected for the relevant age groups, and that a number of factors appeared to have contributed to these.
"In response, I am announcing that I will provide a comprehensive package of support to be delivered through an increase in funding of £800,000 to the National Support Programme for literacy and numeracy.
"This support package will be bespoke to the needs of schools, and contribute to the on-going, long-term improvement of teaching and learning in numerical reasoning."
In its report, Acumina said: "We recognise that the outcomes from the pre-test must be treated with a degree of caution, since the sample sizes are small and not always representative of national performance.
"Nonetheless, there is a clear issue in terms of level of performance.
"As these tests will be new to schools in May 2014, it is likely that performance will be considerably lower than ideal as teachers and learners begin to understand the new framework and the expectations regarding numerical reasoning.
"However, the fact that a very few learners scored highly on the pre-test offers reassurance high standards are attainable."
'Failing our children'
Welsh Liberal Democrat education spokesman Aled Roberts said the findings were "deeply embarrassing" for the Welsh Labour government and indicated the "failures" of its policies.
"From one week to another, the performance of the Welsh education system hits the media headlines and portrays Wales in a very negative way. This is not good for the morale of teachers nor for the image of Wales as a country to invest in," he said.
"I would hope that the lesson we learn from this report is not that children don't know how to sit tests. The issues seem to be much more fundamental than that. We are really kidding ourselves if we think that current shortcomings can be addressed by coaching for the tests and if that is all we do then we shall be failing our children further."
National testing was abolished in Wales in 2004, but is being brought back by the Welsh government in an attempt to raise standards in schools amid concern about poor performance.
The latest Pisa international educational comparisons will be published next week.