Beyond the fringe: Welsh Tory double act takes stage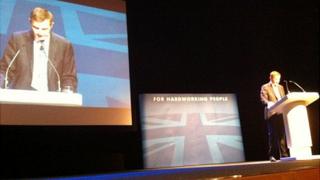 As David Cameron prepared to give his promise to build "opportunity for all" a few dozen Conservative members gathered in the exchange auditorium, a short hop from the main hall at the conference.
There, opportunity for all included, after much negotiation, both Welsh Tory leaders. David Jones and Andrew RT Davies sat on a panel, separated by the Northern Ireland Secretary, Theresa Villiers - an unscheduled part of the Northern Ireland peace process.
"The problem is," as one party insider put it, "is that neither believes the other's job should exist." Both were on their best behaviour, politely applauding the other's contributions.
Mr Davies had caught a "daft o'clock" train from Cardiff this morning to make the meeting. He highlighted some of the policies the Welsh Conservatives have announced on issues such as education and the revival of high streets.
David Jones focused on the need for politicians to work together (a message aimed at the Welsh government rather than the Welsh Conservatives).
He repeated his criticism what he sees as the Welsh government's focus on over-regulation, telling his audience: "Regulations on builders are considerably more onerous than in England - including the bizarre proposal to fit every new house with a sprinkler system.
"The consequence of this over-regulation is that fewer houses are being built in Wales. In the 12 months to May to July of this year, new home registrations in England were 34% up," said Mr Jones.
"In Wales they were 32% down. That isn't just a statistical blip. That is a sign that things are not healthy in Labour-run Wales."
Today's meeting was chaired, at No 10's request, by Vale of Glamorgan MP Alun Cairns, who will have won Brownie points in the Wales Office by introducing Mr Davies as "the leader of the Conservative group in the Welsh assembly" rather than as the leader of the Welsh Conservatives.
Sadly there was no time for pesky reporters, from the "weak Welsh press" and elsewhere to ask the speakers whether they saw a long-term future for the Wales Office in a UK where more powers are passing from Westminster to Cardiff.
Andrew RT Davies's view is here.: "I think as we go forward there is a debate to be had as to do we need all the offices of state?
"As a Conservative, I'm a big believer in small government and we shouldn't have offices staying in place for the sake of it. That's a discussion and debate to be had further down the road and ultimately I'm comfortable with having that debate and the consideration has been put out there, an office of the countries and regions of the United Kingdom would be a sensible proposition to consider."
That's an idea put to the prime minister ahead of last year's reshuffle. Instead, he replaced Cheryl Gillan with David Jones and gave the Wales Office a third (Liberal Democrat) minister, Lady Randerson.
Mr Cairns did carry out an impromptu cabinet reshuffle of his own during the meeting, announcing Ms Villiers as the secretary of state for Scotland. Perhaps he knows something we don't. Remember, you heard it there first.