National parks an 'obstacle' to regeneration, MP claims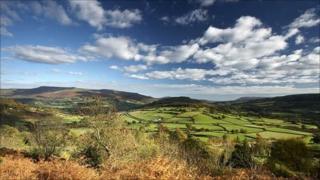 The national parks planning system is an obstacle to economic regeneration, a Welsh Conservative MP who led a debate on the issue has argued.
Carmarthen West and South Pembrokeshire MP Simon Hart said parks should be able to consider social and economic factors as well as environmental matters.
Although planning is a devolved issue, Mr Hart said the issues he raised applied to Wales' three national parks.
England's planning minister said rural areas should be able to grow and adapt.
In the Westminster Hall debate, Mr Hart called for national parks to be allowed to give as much weight to social and economic factors as they do environmental matters.
England's planning minister Nick Boles said he understood Mr Hart's aim of protecting the landscape of national parks with the goal of supporting sensible, sustainable development.
He added that there was a "danger of making rural communities... into rural museum pieces - they are not so much protected as embalmed".
In Wales there are national parks in the Brecon Beacons, Pembrokeshire and Snowdonia.
Two-thirds of national park members are appointed by councils and a third by the Welsh government.
Mr Hart told MPs: "All is not well in the national parks planning system and there are great frustrations from people trying to do their best as part of the economic regeneration and recovery... and we're seeing, sadly, national parks are an obstacle to that progress rather than an asset."
More needed to be done to make national park planning decisions accountable to local communities, he said.
He said merging the national parks planning function with local authority planning operations would save a "vast amount of public money" as well as make the planning process more consistent.
Local appeals
Mr Hart was also critical that planning decisions that fell within the scope of national parks were often made by unelected bodies.
He suggested in such instances a planning decision could be reviewed by a local authority equivalent.
"That should be a free service, so if somebody puts in an application and it gets a perverse response, there should be a localised system of appeal to support the ratepayers of that area," said Mr Hart.
Replying to the debate, Mr Boles said the picture was not as bleak as his Conservative colleague suggested.
"Local authorities and indeed parish councils are able to nominate people to boards of national parks so there is a link there with the local democratically elected authorities," he said.
Mr Boles said it was important to review whether "we are fully reflecting the desire to be more localist in our planning policy".