Leighton Andrews resigns: Education minister post to be filled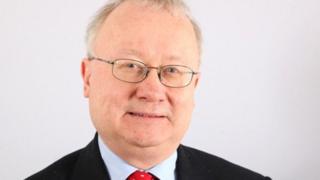 Schools and education authorities are waiting to find out who will replace Leighton Andrews who resigned as education minister on Tuesday.
Mr Andrews quit after a row over his defence of a school which faced closure under his own surplus places policy.
He had been pictured holding a banner in support of Pentre Primary School in his Rhondda constituency.
First Minister Carwyn Jones faces a reshuffle of his cabinet as he decides who will be the new education minister.
In a letter to the first minister released on Tuesday evening, Mr Andrews said: "I feel I have no option but to offer you my resignation today.
"I regret that my commitment to my constituents may have led me to an apparent conflict which led to difficulty for the government."
Mr Jones accepted the resignation with "great regret".
He added: "I recognise very well that there is sometimes tension between the role of a government minister and the demands of a constituency assembly member.
"The ministerial code aims to define the boundaries between the two roles and, on this occasion, I believe those roles were confused."
The row began when Rhondda assembly member Mr Andrews was photographed earlier this month holding a sign saying "Save Pentre Primary and our community".
It had followed on from a consultation by Rhondda Cynon Taf council (RCT) on closing the school which has just 73 pupils, despite having room for 202.
The council issued a statement saying every council in Wales was "under a clear direction" from the Welsh government to tackle the matter of surplus places within its schools.
The authority confirmed Pentre had the highest percentage of surplus places - 64% - of any school within Rhondda and so had to be considered for closure.
Mr Andrews wrote a detailed objection to the council's plans for Pentre on the grounds that Welsh government guidance had not been properly followed by the Labour-run council.
After being photographed, the minister said he was standing up for his constituents as Rhondda's assembly member.
But Mr Andrews had repeatedly warned councils across Wales that they must close and amalgamate schools to deal with excess capacity.
Mr Jones failed to defend him from opposition claims he undermined his own policy.
And two weeks ago, he rebuked Mr Andrews for his actions in defending a local hospital from possible cuts.
Mr Andrews used the Labour party's name to oppose potential cuts to specialist accident and emergency services at the Royal Glamorgan hospital in Llantrisant which serves his constituency.
Former First Minister Rhodri Morgan said Mr Andrews had received a "yellow card" from Mr Jones for his stance on health service shake-up in south Wales and then a "red card" for his position on the school under threat.
Anna Brychan, director of the head teachers' NAHT Cymru, said she was sorry to see Mr Andrews go despite disagreements and "ding dongs" on some occasions.
"But I think it's also fair to say an awful lot of work has been done that we do support - the literacy and numeracy frameworks for example, the enormous report that came out last week on the possibility of restructuring education services," she said.
"We are now concerned what happens with all that work because one thing you can't deny about Leighton Andrews is that he is a big beast on our political stage and we're at a critical point as far as our education service is concerned.
'Headless chicken'
"We do want to see that momentum isn't lost that has been built up over the past few years for which he has been largely responsible."
Welsh Conservative leader Andrew RT Davies said Mr Andrews would be a loss to the first minister but there were major issues within the Welsh education system.
"There's a vacancy around Carwyn Jones's cabinet table but the policies still exist," Mr Davies told BBC Radio Wales.
"What is required here is that Carwyn Jones gets a grip on the situation and instead of running around like a headless chicken he actually starts to deliver on education, health and the economy for the people of Wales."
Welsh Liberal Democrats leader Kirsty Williams said it was "quite clear" Carwyn Jones was not willing to defend his education minister.
And Plaid Cymru's education spokesman Simon Thomas said the resignation was the correct decision.
Former Labour Welsh Secretary Peter Hain described Mr Andrews' resignation as "catastrophic for Welsh Labour" in a post on Twitter.
Meanwhile, Labour's Rhondda MP Chris Bryant, seen at the same school and hospital protests, said: "I think there will be a huge cheer of support in the valleys tonight for Leighton Andrews."
RCT Council issued a further statement, saying: "Leighton Andrews has always provided a strong and effective voice for the Rhondda and will continue to do so.
"Our approach to all school reorganisation proposals is consistent, in accordance, and in response to the clear direction set by the Welsh government."