Welsh government braced for Chancellor George Osborne's cuts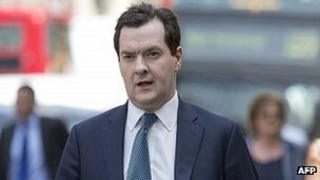 The Welsh government is bracing itself over how much of its budget Chancellor George Osborne will cut in his spending review.
Mr Osborne will reveal what the devolved administrations will be able to spend in 2015 and 2016.
His cuts are part of £11.5bn savings from overall spending plans of £740bn.
Schools and hospitals in England are to be protected meaning a sizeable chunk of the Welsh government's spending will also be safeguarded.
The overall reduction in Wales could be below the Whitehall average.
But cuts to local government in England will squeeze the cash available in Wales, although it will be up to Labour ministers in Cardiff to decide where to cut according to their own priorities.
S4C will be watching anxiously as the Department for Culture, Media and Sport budget in Whitehall is cut, amid fears that the TV channel will have to rely on BBC licence fee money sooner rather than later.
Relief road
The chancellor is expected try to soften the blow of cuts by announcing the go-ahead for major capital schemes which could help create jobs and stimulate the economy.
Mr Osborne has twice highlighted the need for a M4 relief road around Newport. Supporters of the scheme expect him to give it the go-ahead this week but questions remain over how a project costing up to £1bn will be paid for.
The Welsh government would like to borrow the money but an agreement in principle for it to be able to do so has yet to turn into a legal commitment.
Treasury Chief Secretary Danny Alexander said the M4 scheme was tied up with a report by the Silk commission on devolution, to which a UK government response is due shortly.
Ministers in Cardiff and Westminster are likely to disagree about the scale of the cuts with technical arguments about baselines and accounting periods.
But both sides acknowledge that after years of ever-rising budgets the Welsh government is having to cope with less money to spend.
This spending review takes in almost all the year after the next general election.
So we could have a different chancellor holding the purse strings by then.
But with shadow Chancellor Ed Balls suggesting Labour could stick to the plans announced on Wednesday, that will be little consolation for the Welsh government.