Carwyn Jones repeats energy plea at British-Irish council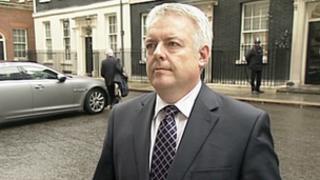 The first minister is using a meeting of British and Irish governments to repeat his call for more powers over energy.
The Welsh government wants responsibility for bigger projects, but the plea has been rejected by the UK government.
Ministers in Cardiff say they have limited powers to approve power plants and renewable energy schemes.
The Westminster coalition says the current arrangements are "appropriate".
Onshore projects up to 50MW, including windfarms, need consent from the Welsh government. Anything bigger requires approval by the UK government.
The Welsh government wants to extend its powers so it is responsible for schemes up to 100MW, bringing it in line with the other devolved nations.
Carwyn Jones repeated the call ahead of a meeting of the British and Irish Council in Northern Ireland on Friday.
"Whilst there are tremendous prospects for low carbon energy investments in Wales, we are severely disadvantaged by current UK energy policy," he said.
"That is why I am again calling for the same powers over our energy resources as other parts of the UK."
In March the UK government said the current arrangements are "appropriate".
It said that changing the threshold from 50MW to 100MW "could have a negative impact" on energy and planning policy for major infrastructure projects and also lead to increased complexity in the planning system.